Of all the routine events of life here in Helmand, there's one thing I'll never get used to: the all too frequent repatriation services, or 'ramp ceremonies', for fallen soldiers.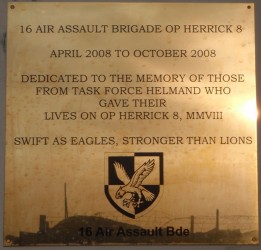 125 British soldiers have now died in Afghanistan.  While the previous brigade, 16 Air Assault, were here, I went to the ceremonies of 10 of them.  Their bodies are flown out from Camp Bastion, the main British military base in Afghanistan a short helicopter ride from Lashkar Gah, and a simultaneous ceremony is held here.
The ceremonies involve a few words from the padre, a heartbreaking outline of the lives and careers of the dead, a reading and a minute's silence.  Parts of the reading, written by the padre, will remain imprinted on my memory.  It doesn't have the same power in writing as it does after hearing about the loss of a son, brother or husband (or, in one of the 125 deaths, a daughter, sister or wife), but it reads as follows:
O God, the author of peace and lover of concord,
You alone spread the heavens and shelter us beneath your wings;
Defend us in all assaults of our enemies,
That, swift as eagles and stronger than lions,
We may run and not grow weary,
March and not grow faint,
And, surely trusting in your defence,
Defy the might of any adversaries.
The first ceremony I went to was for five soldiers.  Two were born only in 1989.  The oldest, a year younger than me, had married a year ago.
The last service I attended was for two soldiers, Lance Corporal Nicky Mason, 26, from Aveley in Essex and Private Jason Lee Rawston, 23, from Clayton-Le-Moors in Lancashire.  Nicky Mason died on 13 September 2008 as a result of an explosion whilst on a routine patrol near Kajaki, and Jason Rawston was shot when his patrol encountered enemy forces near Sangin.  During their minute's silence, at sunset, the call to prayer drifted across the camp from the nearby town.