In the UK, Pakistan is regularly in the news, and most of it is bad. So you may find it hard to believe that anyone would work here by choice. But I do - and I really enjoy it! Pakistan is a fascinating country with great people, stunning landscapes, and real potential for a brighter future. It's a complex environment with many deep rooted challenges, but if you think that Pakistan is all about bad news, you'd be surprised by some of what's going on here.
Let's start with the big picture - which is certainly daunting. More than 60 million people in Pakistan live on around 30p a day; nearly one in ten of the world's out-of-school children live in Pakistan; and one in eleven children dies before their fifth birthday. The population is growing by 3 million every year and is set to rise by 50% in less than 40 years. Decades of conflict, instability, weak governance and corruption have left the state unable to deliver the services that people need.
Set against this, some things are changing - and fast. After 60 years of democratic instability, national elections this weekend will mark the first ever democratic transition from one civilian government to another. Women are gaining a voice and rights. Landmark legislation passed last year finally provides legal protection against violence, and more women will vote in this weekend's elections than ever before – one million of them thanks to support from the UK. The media - liberalised in the mid-2000s - is flourishing, and new media and new technologies are propelling changes to banking, industry, communications, and politics which have been visible even in the two short years that I've been working here. A full 50% of Pakistanis now have access to a mobile phone. And get this - Pakistan has produced two of the world's top five most popular blackberry apps.
So the challenges are enormous, but I think there are important reasons for hope, and our support is helping to make a difference. I manage DFID's health and education work here and over the coming years we're aiming to transform education and deliver real improvements in health for poor people, especially women and girls. I'm mostly office based in Islamabad, but the best part of my job is getting out to see what's happening on the ground, where we're making progress and what still needs to be done.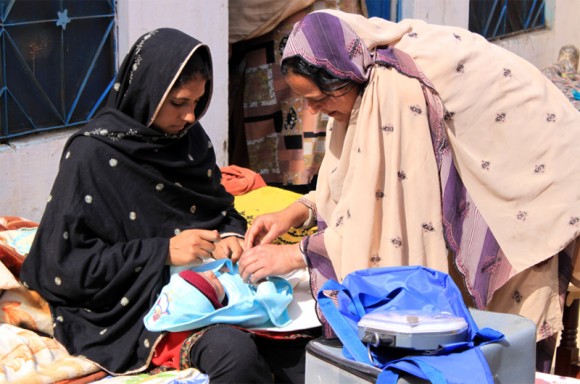 For example, last Friday I went to visit some schools in central Punjab. The second one was most interesting. I walked into the headmistress' office to find her talking sixteen to the dozen to my colleague Taimoor. Without pausing for breath she recounted how hard it was trying to get her teachers to turn up every day. She would phone, cajole, scold them. She was turning down their requests for days off. But (and here she mellowed) it was working. The teachers were turning up and as a result things had improved at the school.
This was the Government Girls' Higher Secondary School in warm and dusty Jhelum. Built in 1880, it was an impressive red brick building. On the wall beside me a big banner announced the importance of the 'Punjab Schools Reform Roadmap'. This is what I went to explore - I wanted to know whether the UK's support for the Roadmap was really helping to improve things in schools.
Two years ago, Mrs Cheema's school, like most in Punjab saw around 25% of teachers fail to turn up to work on any given day. Without teachers to teach them, many of the 1700 female students would stop turning up too. Now, she told us, things were changing.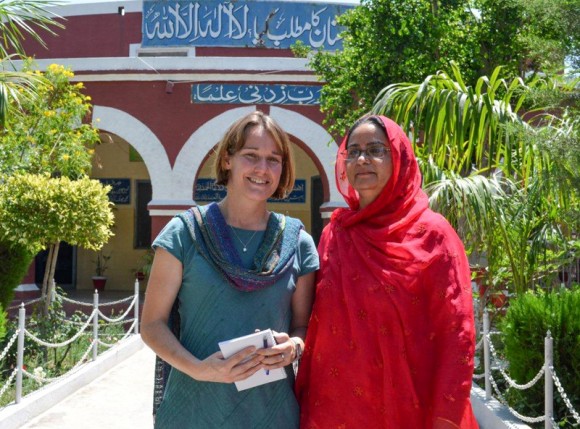 Mrs Cheema's school is part of the turn-around happening in 60,000 schools across Punjab. Since the UK started work with the Punjab Government on the Roadmap in 2011, 81,000 more teachers have been employed in state schools. By tackling absenteeism, around 20,000 more teachers are in classrooms teaching kids each day. We're helping to improve the quality of teaching by giving teachers lesson plans which guide them through what they need to teach, lesson by lesson. And this year, for the first time, every child in Punjab is being given a textbook for English, Maths and Urdu - a big step forward. The statistics speak for themselves, but I wanted to cross-check them against what was happening at local level.
As we walked around the school, Mrs Cheema complained that she got little recognition for all her work ensuring her teachers were in school. She, and thousands of other head-teachers across Punjab are the key to making things better. I thought she had a really good point, and vowed to raise this with the Secretary in charge of Punjab's schools when I next met him.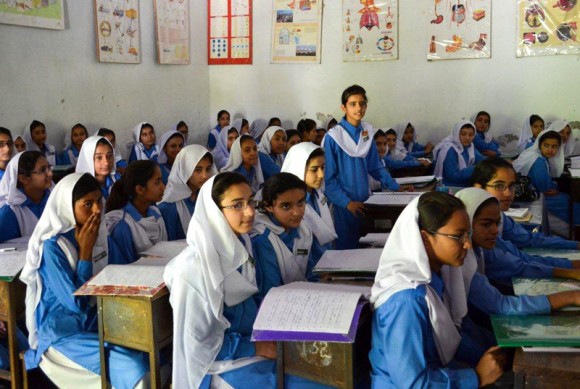 So some things are changing - and fast. But it's only the start. There are around 20 million kids in school in Punjab, but over 3 million don't yet go to school at primary level alone. Transforming education is the focus of my work here. DFID invests in a range of education programmes across Pakistan. As a result some 4 million children in primary school will benefit from UK aid by 2015. We are helping them learn better and for longer. There are signs that all the hard work is beginning to pay off. It's early days - to transform a system of 60,000 schools will take time - but it's starting to happen. That's why I'm here. And that's why, despite all the challenges, and despite all the bad news, I'm hopeful.
I'll put up another blog soon to keep you posted on progress, including what happens this weekend, when I'll be out and about monitoring Pakistan's historic elections.
---
Are you interested in development issues and the UK's support to Pakistan? Sign up to receive our quarterly newsletter which includes new announcements, case studies, photos and blogs on our work as well as jobs and funding opportunities.