I am drinking a cup of coffee as I write this blog. I suspect that some of you may be drinking one as you read it. The coffee you are enjoying may well be coming from the east of the Democratic Republic of Congo, but you would never know. 'Made in DRC' is not a helpful label when it comes to selling coffee on the international market. In fact, Congolese coffee beans fetch a lower price than those of other countries, even if they are of the same quality.
Why? Aside from some bad practices, the main reason is that the DRC has a bad reputation as a result of conflict and the consequent supply uncertainties. During the last few decades, Congolese coffee exports collapsed from a peak of 80,000 tonnes to only 8,000 tonnes now. That's the official figure: exports are probably twice as high because much coffee is smuggled across the border and then sold as Ugandan or Rwandan coffee to avoid the "Congo discount".
Earlier this month, I visited small and large coffee producers in Rutshuru territory in the province of North Kivu. Home to mountain gorillas in the world-famous Virunga National Park, the province is also DRC's main coffee-growing region. The UKaid-funded ÉLAN RDC programme has the ambitious aim of stimulating Congo's coffee production in a way that benefits small and poorer producers. This means improving the quality of coffee, introducing more efficient technologies, linking smaller with larger producers and, possibly, supporting the reintroduction of trade financing for the coffee sector.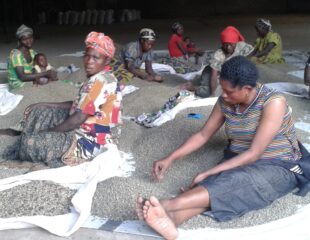 A key issue for the coffee sector in North Kivu – as for other agriculture – is secure access to land. The province is home to seven million people and is densely populated. Conflict during the last decades has led to significant displacement, with 744,000 internally displaced people currently in the province. People fleeing from conflict or returning when the situation improves has increased pressure on land, playing into long-standing grievances over rights of land access and fuelling wider drivers of violent conflict.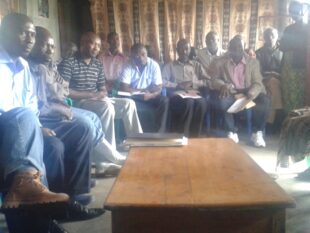 Effective land administration – so that people know who owns which land and can obtain a title to prove it – is complex in any country. It became all the more difficult in Rutshuru territory when M23 rebels destroyed land records after they took control of the area in 2012. Through a programme implemented by UN Habitat, UKaid is building on localised land mediation efforts to support efforts to improve in a sustainable way the system by which land is governed. The project is now considering how it can support cadastral offices, including the one in Rutshuru, to facilitate a more transparent system of land management that the population can have trust in.
It will be many years before coffee reaches earlier production levels and land administrators are able to resolve remaining land challenges. The programmes mentioned above will work towards those aims. But I hope that it won't be too long until the province is known again for good things, such as coffee 'Made in Rutshuru, Eastern Congo'.