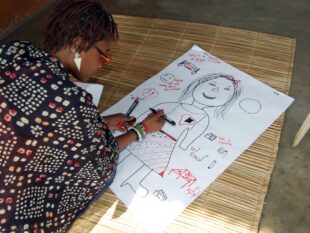 There are apparently three stages to adapting to a new country; firstly, elation – everything is new, exciting and different; secondly frustration – everything is new, confusing and different; and lastly, normalisation – everything has its ups and downs, some days are great, some days not.
Three weeks in and admittedly I may still be in the elation stage but as I get settled into Ligada, the programme I have been seconded into, I genuinely feel the programme, which is focused on female economic empowerment in Mozambique, finding opportunities to help adolescent girls and women through education, find work, and to address both the social and economic barriers that prevent them from reaching their full potential, is incredibly new, exciting and different!
Here are my top three reasons why. You can be the judge as to whether this is the flawed perspective of a newly-hatched expat…
Ligada has started with questions;
Lots of questions - rather than beginning with a rigid idea of what works and then doing that to see if it does, Ligada has taken several steps back and is looking afresh at female economic empowerment. We're questioning everything – perceptions of women's roles, where they work, how they work, attitudes to work, access to services. Ligada has commissioned 8 studies and 4 papers that will detail the specific circumstances of the girls and women we hope to reach. This means that when we sit down to develop our Theory of Change, a process that will chart the work we plan to do, why, how and the anticipated impact of this work, we will have a huge amount of information to inform our approach, drawing together local and international experts in their fields to ensure we are not second guessing.
Ligada has a long inception phase;
We have set aside a significant amount of time to design the programme. This is partly what has enabled point 1 above. We have the space to ask questions and revaluate, which means the team is buzzing with creativity. We have the space to ask 'what if…', to think big and follow up on new ideas.
There will come a point where we need to rationalise and prioritise but at this stage we've got time to let the ideas run and see where they take us. It means for example, we get to think about how to ensure we can integrate beneficiary feedback loops ( i.e regularly collecting and interpreting information from those we are seeking to help to see what is working where) into our monitoring and evaluation to enable genuine adaptive programming. The design of something like this takes time and requires creativity –we have the space for both.
As I see our thinking develop over this time I do wonder what happens if a programme goes too quickly into delivery – surely it stunts opportunities for innovation. This may be OK if a programme knows exactly what it needs to deliver and how it will be successfully delivered but I can't think of any programme where there would not be a possibility of better delivery with some 'what if' time built in to the design/inception phase.
Of course there is a need to be strategic about this – a programme has a very short grace period before people want to see results. In anticipation of this, Ligada commissioned two studies at the outset to help start some interesting conversations about what DFID and other donors can do to increase their impact on female economic empowerment. These quick wins have brought Ligada valuable space and time.
Office space!
OK – so this may seem superficial but I don't think it is. Our office is right in the heart of Maputo – a lab where other businesses and social enterprises all buy desk space, wifi, etc so they have a flexible space to work in. It has the feel of a San Francisco start up – although probably a little hotter and with more power outages.
There is a mixture of people here all trying to think about the problems Mozambique presents. This attitude and energy can carry people a long way to finding innovative solutions to the kinds of problems Ligada is grappling with. It helps to be working somewhere where there is this feeling of possibility.
So these are my top three – and I don't think it's because I'm still in a fog of elation. A few weeks back the Overseas Development Institute, a Ligada partner, published a great report on 'Theories of Change' (see the link below). In it Craig Valters highlights four key principles for making Theories of Change work: 1) focus on process, 2) prioritise learning, 3) be locally led and 4) think compass, not map.
The paper could have been written about Ligada.
In these early days, the space to ask questions has enabled us to prioritise learning and develop our compass, recognising we need to know more about how to navigate this work rather than assume we just need to draw our map and happily plot from A to B. The long inception phase, and our physical location, has given us the chance to focus on process, make connections and ensure that we create the right mechanisms to be locally led.
So, a few weeks in, and I think this programme is brilliant and feel privileged to work on it. There will doubtless be frustrations, but this is how we will learn and adapt. I feel confident that we are putting in place the foundations and genuinely remarkable programme. And yes, it might be the elation talking, but I suspect not.