Last Sunday, I met up with Elizabeth Mukwimba, a 62-year old lady from Magu district in north west Tanzania. This was Elizabeth's first time to Dar es Salaam. We talked for about an hour and, as we said goodbye, she said she wanted to see the ocean.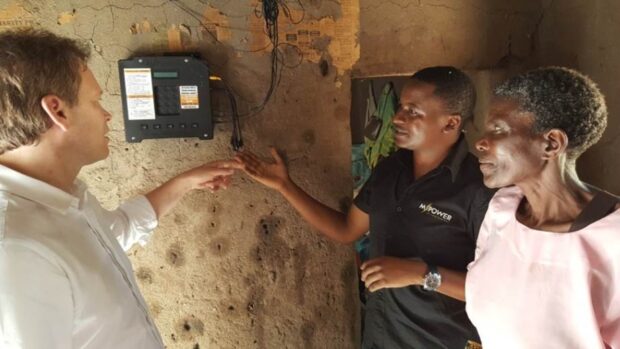 I had only met Elizabeth once before: in May, when Grant Shapps came to Tanzania. We went to Elizabeth's house because she had just had a small solar panel fitted to her roof by Off-Grid Electric (OGE), supported by DFID. Her story, of how this technology transformed her life, inspired the Energy Africa campaign which Grant Shapps launched yesterday.
At one level, Elizabeth's story is a simple one. A solar panel on her roof and a clean cookstove mean her grandchildren can now study at night, she doesn't have to pay for expensive and dirty kerosene for lighting and she uses a lot less firewood for cooking. Elizabeth spoke softly, but powerfully, to me about how these small things have completely transformed her life and given her peace of mind.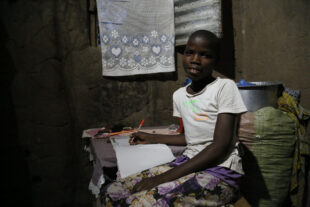 And that's what the Energy Africa campaign is about: creating millions more stories like Elizabeth's. Energy can help create jobs, provide security, boost food production and increase incomes. Importantly, renewables can also help mitigate climate change (60% of greenhouse gas emmissions come from energy). But across Africa 600 million people are without access. Global Goal 7 has set us the challenge of getting affordable and clean energy to them.
So how do we do it? If you've read my previous blogs, you'll know that I try to avoid simple plans. Rarely are there easy answers in development. But the story of how that solar panel found its way onto Elizabeth's roof is enlightening.
First, there is the 'demand'. Over 80% of the 45 million people in Tanzania have no access to electricity. In rural areas, that increases to around 95%. Nor is this likely to change anytime soon. As I've blogged previously, when people are spread out over vast distances, the costs of reaching them are very high. The Tanzanian government estimates the cost of an on-grid connection in rural areas to be around $650. That is prohibitive, especially when your customers can't afford the $110 connection fee.
Second, the technology. In 1977, solar power cost $76.67 per watt. Since then, the price has dropped a hundred-fold to $0.74 per watt. And the innovations keep coming, for example in lithium batteries and LED lights.
In parallel, East Africa has been at the vanguard of mobile phone payment systems like M-Pesa. In Tanzania, in 2009 only 1.1% of people used mobile money. By 2013, it was 49.9%. Today, the proportion will be even higher.
So millions of people wanting electricity but unable to access it, much cheaper solar power and people increasingly able to use mobile money to make payments... cue the entrepreneur.
Into this market has burst a group of young, dynamic companies offering a range of innovative, household solar products.
OGE  is one such company. The system Elizabeth uses has a one-off installation fee of 12,000 shillings (£3.75) followed by a 9,000 shilling (£2.80) monthly payment to keep the system activated. This M-Power system provides enough electricity to run the lights all night. If the system breaks down, OGE will fix it so the maintenance challenge is dealt with. And, after 3 years, the whole system will become Elizabeth's to own and run for free.
Alongside OGE are several other companies offering variations on the technology or financing terms: M-Kopa, Azuri Technologies, Mobisol, Zara Solar and Ensol to name a few. Importantly, most of these companies are founded, managed and employ young people and, in the case of Solar Sister, young women.
The potential market is huge. Across Africa, sales have tripled in the last three years providing affordable and clean lighting for 35 million people in rural areas.
So with such a dynamic market, why do we need Energy Africa? That's where the final piece of the puzzle comes in. OGE wouldn't have gone to Magu district as quickly as they did without an added incentive. That incentive came from DFID and other donors. Essentially, we offered a payment to any company that could reach a certain number of households in remote areas.
Energy Africa is about how we bring all these different elements together and bend the curve to achieve Global Goal 7. There are opportunities abound. Even going beyond the 600million households, imagine solar power for rural clinics: doctors no longer having to perform surgery at night using just the light off their mobile phones. Or in small businesses: the local barber using solar power for his hair clippers, instead of a costly and polluting generator. Or in schools: children able to take solar lamps home so they too can study at night. The possibilities are endless. The future is bright.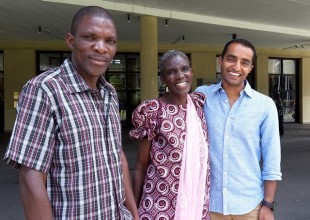 So when I think of Elizabeth's story, it reminds me that development comes in all shapes and sizes and small things can make a big difference. But it also gives hope to the very real prospect of Africa leading the world on off-grid, rural solar power. That vision, of a country like Tanzania, harnessing the combined power of its climate, its young people and its entrepreneurial spirit is wonderfully exciting.