Only half of children lucky enough to attend kindergarten classes in Ghana are taught by formally trained teachers.
Resources are scarce for these four and five year olds too, there's only enough workbooks to share one between three and even tables and chairs are in incredibly short supply.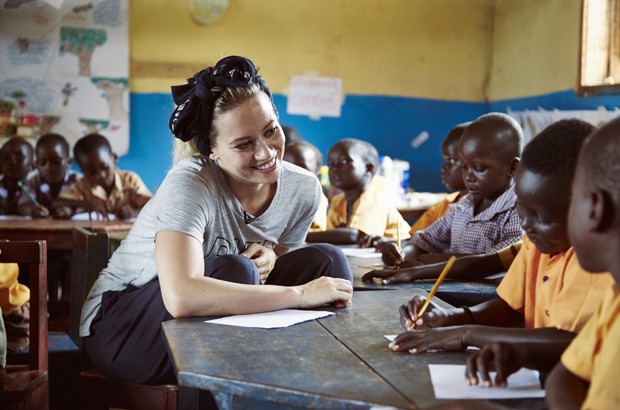 The kids that I met in those hot, dark classes were desperate to learn and have such big dreams for their futures, but they are really struggling to get the education that they desperately need to be able to achieve them and escape the poverty trap they find themselves in.
Thankfully wonderful schoolchildren across the UK have helped their fellow pupils by baking, dancing and dressing-up for Red Nose Day to give thousands of children across Africa a brighter future. What's more the UK government provided £10 million, which included doubling all of the money raised by schools across the UK, so that twice as many children could gain access to essential learning.
I'm American but all of the amazing Red Nose Day fundraising efforts make me so proud to live in Britain - and the way that money is being used to change young lives is truly incredible.
In Ghana I saw an organisation called The Sabre Trust training hundreds of teachers like Dora, 25, to use play and activity in their lessons to really engage these little ones and feed their desire to learn.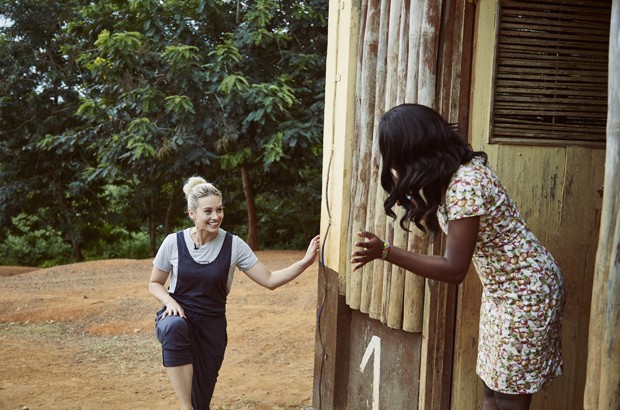 Even though Dora is left-handed, when she was at school she was forced to write with her right hand, something which Dora still struggles to understand.
But her own experiences have made her passionate about ensuring young people can express themselves freely. In her own classroom in the rural village of Dwabor learning is fun and children are allowed to explore the space and express themselves. There are no rows of desks and each subject is taught through various games and activities.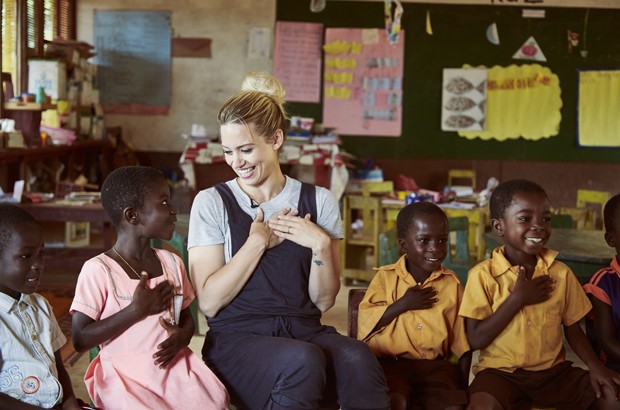 Sabre also encourages teachers to be creative about their lack of resources, teaching them to make the things that they can't afford to buy using recycled items from around the home.
Dora's class is a vibrant room decorated with paper chains which are hung across the ceiling and the walls are covered with colourful, hand-made posters, from numbers to the alphabet.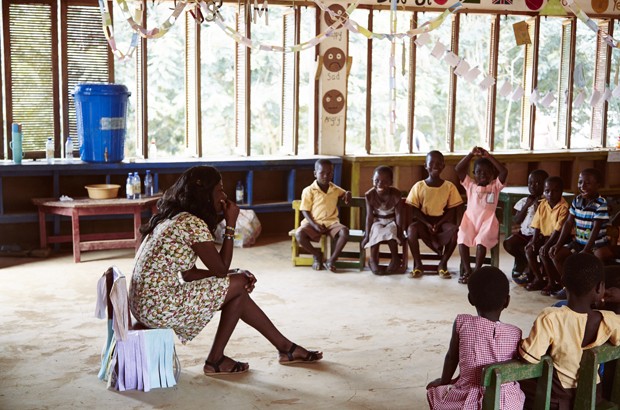 I helped the children to use old bottle tops to spell out their names and we also practiced our numbers, buying and selling from a pretend shop which was stocked with empty bottles and cartons. Teachers discipline children by giving them time out from play and rewarding good behaviour.
The pupils were in total awe of the best-behaved boy who sat like the king of the room on a chair covered in coloured paper and with a crown on his head, reading to the rest of the class.
I met several inspirational teachers while I was in Ghana, but Dora was incredible. Her patience with the children was remarkable and I love everything that she stands for. Teachers old and new have embraced this new interactive, child-centred form of learning and recognise that it could be exactly what Ghana needs to help transform an entire generation of young people.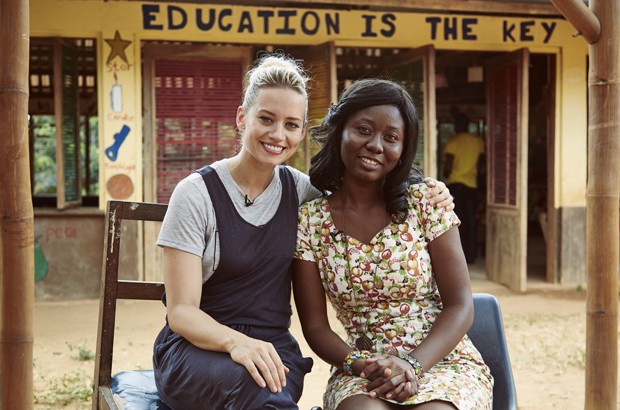 As well as a great education, what teachers like Dora are also bringing to these kids is a fascination and love for life. I really hope that my daughter Willow gets a teacher like her when she starts school.
Those adorable young kids I met in Ghana were so desperate to learn and fulfil the huge expectations their parents have for their little lives. A good kindergarten education, thanks to the amazing training your fundraising and the UK Government money is funding, will set them up to achieve the results they need in school to be escape poverty for good.