Next month, world leaders will come together at the United Nations to adopt a set of Sustainable Development Goals for the post-2015 era. One of the targets under this framework may well be to double agricultural productivity and incomes for small-scale farmers by 2030.

This is hugely important for Tanzania. It's a country blessed with fertile land, livestock and marine resources. And 70% of Tanzanians earn their livelihoods from agriculture.
So I decided to spend the last month learning as much as I can about the sector.
A health warning: I haven't had an epiphany. So I'm afraid I don't have the simple five point plan to sort agriculture. If only. Instead, given how important agriculture is for many developing countries, I wanted to use my first official DFID blog to share the journey I have been on.
I started the month with three thoughts:
First, how hard can it be? I remember planting seeds in yoghurt pots at primary school and, a few days, later out popped some watercress. Simple.
Second, I thought Tanzania was ahead of the curve. In 2009 the Tanzanian Government embarked on 'Kilimo Kwanza' – an ambitious plan to boost the agriculture sector.
And third, while I knew we were doing good work to get behind this, I didn't really understand the big picture.
What did I learn?
Agriculture is a science as much as a tradition. There are seeds that can do amazing things. Fertilisers that are fine tuned to the soils as well as the crops. Farming techniques that retain more moisture in the soil (important for semi-arid areas). Things like this can transform yields and incomes. But I was told that 80% of farmers probably don't use any of it.
So now the big question: why?
Of course, there are issues with awareness, capacity and availability of these technologies. And there are countless development projects working on this. But to my mind, that's the easy part.
The harder bit, and the thing we need to talk more about, is the mix of economics, politics, power and culture.
Let's start with the economics. Farmers operate in a world of tremendous uncertainty. What will the world price of the crop be when it comes to harvest time? Will government policy be the same next season? Will the rains come this year? What is the cost benefit of investing in seeds and fertilisers? And, related but hardest of all, will someone buy the crop at a decent price? I have a degree in economics, but this is akin to applied quantum game theory.
Then the politics. The agriculture sector in Tanzania is rife with vested interests and people who benefit from the status quo. Whether that be selling sub-standard seeds, importing poor quality rice or playing politics with rural votes, there are deals done behind closed doors that deny opportunity to farmers.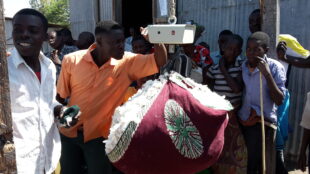 Related to both the economics and the politics, is the power imbalance between farmers and buyers. It's the latter who hold the upper hand in negotiations over price and quality. This isn't a problem unique to Tanzania.  Just look at how our Dairy farmers are protesting against the price they are getting for milk. In developing countries, initiatives like "Fairtrade" and farmers' groupings can help. But there is no simple solution here. As I saw for myself, we need to be ever conscious of the relationship between poor farmers and those they are selling to.
You may say that surely the government can help to address these issues. Yes. It can and in many cases does a terrific job. For example, under the Big Results Now initiative the Tanzanian government is catalysing collective warehouse schemes to increase the bargaining power of smallholder farmers through bulk sales. But agriculture also suffers many of the same constraints as other sectors. Take red-tape for example. If you want to export horticulture products you need a certificate from the Tanzanian Atomic Energy Council confirming that the consignment is free from radiation!
Lastly, culture. Many of these communities have been doing things the same way for generations. They rightly trust what they know and not the mzungu who turn up for a few days with their fancy ways. Rural communities the world over have a deep respect for tradition. Change, when it comes, usually comes from within and takes time.
So as I come to the end of this month, what are my parting thoughts?
First, I was wrong. Agriculture isn't simple and Tanzania still has a long way to go. People like me, who in some small way want to support that effort, need to get much better at understanding the complexity and long-term nature of agricultural change. This month was the beginning, not the end of that journey for me.
Second, I have a huge, new-found respect for farmers. They are literally at the mercy of forces beyond their control: the weather, a new pest that could wipe out their crop, a ruthless buyer or world prices that could collapse overnight. But every morning they wake up early and labour all day to tend their crop. Awesome.
And finally, a humble observation, from an admirer of Tanzania to whoever wins the Presidential election here in October: putting agriculture at the top of the in-tray will truly change lives.