This will be a quick blog today as so much is happening right now. The Caribbean Community is actually hosting a side event today under the theme ' 1.5 to stay alive' at Copenhagen to put forward their concerns on surviving the adverse effects of climate change.  The '1.5 to stay alive campaign' was launched by AOSIS earlier this year and gained momentum at the New York meeting on climate change in September. There is now even a Caribbean song, and badges, t-shirts and stickers to raise awareness of the plight of small island and low lying states. You may have seen them at the Commonwealth Heads meeting last month but they are also now being distributed at Copenhagen.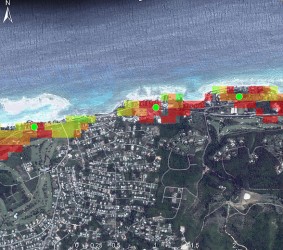 People will hear from several leaders in the Caribbean - nice to see them there in force - including President of Guyana and Chairman of CARICOM, Hon Bharrat Jagdeo; Hon Stephenson King, Prime Minister of St Lucia; Hon Dean Barrow, Prime Minister of Belize. The presentations will also excitingly include the very latest projections for the region under a + 1.5°C and +2°C global warming scenario - this is literally new scientific modelling work completed in the last few months and hot off the press.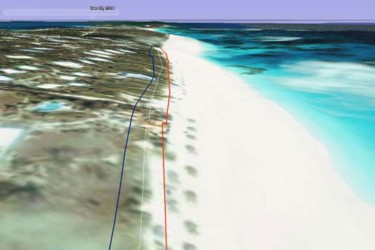 It looks into the implications of ice sheet melt on sea level rise and the differential impacts of these warming scenarios for the Caribbean and Pacific on coral reefs, water resources and agriculture.
I must say I find it really motivating to see more and more people around me talking about climate change. Friends and colleagues are interested in knowing more. We chat about it in different ways over tea and dinner - and this is without me introducing the topic! While attending the fourth annual conference on Comprehensive Disaster Management last week held in Jamaica, PM Golding in the opening address, talked about how he only really recently got what climate change  means for his country and the region and spoke from the heart about the impacts on the poorest. The sessions I attended also brought home to me that we urgently need to do all we can to ensure we "scale up" our disaster risk management practices on the ground to help us adapt.
The talks at the UN climate summit are heated to say the least given recent walkouts. With only days left, a lot of pressure is on to find ways to solve the difficult issues and going for the most we can get. Especially when several small islands' very existence is under threat. I really am crossing all fingers and toes like many that the countries stand behind meaningful commitments they make, and follow through with measures and actions that are financially supported and that we can track real progress on the targets set.
I haven't forgotten my promise to write more on some practical issues facing us with respect to renewable energy in the Caribbean etc... and I am doing my homework to find out more to share with you.