Since I joined the Helmand Provincial Reconstruction Team in November I've seen some great progress being made here, but I've also seen the huge challenges involved in helping the Afghan people govern this country for themselves.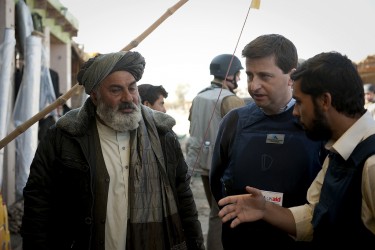 Just before Christmas, Douglas Alexander, the Secretary of State for International Development, visited Helmand and I travelled with him to Nad Ali district, ten miles north-west of where I'm based in Lashkar Gah.  We met Nad Ali's District Governor – a friendly, committed and energetic man with a big beard, called Habibullah. He proudly showed off the local high school which was recently rebuilt, the community health centre which was closed under the Taliban but has now reopened and the new road which has been laid through the bazaar - all with my team's support.
As we were walking along Habibullah told me how he grew up in a nearby village and longed for things to return to the way they were before the fighting. He led us into a room full of "white beards" – local elders who sit on the Community Council and help him to govern the district.  Because of the decades of conflict here many people have never had any contact with the government. We're working with Habibullah to extend the reach of the Community Council so that people in Nad Ali can access basic government services and don't have to rely on the brutal justice of the Taliban.
The Council were busy agreeing next year's budget - a process which involves lengthy negotiations and lots of tea drinking - so we left them to it and wandered round the thriving bazaar where local farmers were selling fruit and vegetables. I was surprised by how safe – and how unlike a war zone – it all felt.
Habibullah lives in the district centre in northern Nad Ali, which was cleared by the British military during Operation Red Dagger early last year and is now relatively prosperous.  The southern parts of the district remain under Taliban control though, and outside of the district centre things look very different.  Because of the security situation we had to travel there by helicopter.  It's exciting running up the ramp onto a Chinook while the rotors are still turning – but the difficulty of travelling across Helmand makes reconstruction and development much harder.  Whether local businesses are trying to transport their goods to market or government officials are trying to visit the districts they govern, freedom of movement is critical.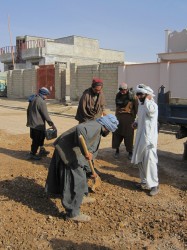 My team works closely with the provincial government and UK and US military to improve security and increase freedom of movement in Helmand.  For example, we've helped to lay around 100 km of hard-surface roads across the province.  Hard-surface roads are easier to travel on.  They're also harder to bury an IED (Improvised Explosive Device) under. Steps like these help Habibullah and other Helmandis to get on with their daily lives without fear of being attacked by the Taliban.  Across the country, work is also being done to clear landmines left over from previous conflicts. But progress can be slow, and rebuilding Afghanistan will take both time and commitment.
I'm now busy preparing for the International Afghanistan Conference in London later this month.  The aim of the conference is to raise more support for the Government of Afghanistan to deliver security and improve economic development across the country.  I'll update you on how things go in my next posting…