As I walked to work today, two of my colleagues stopped me to comment on the rain. Not that unusual you're probably thinking. In London, as I walk to work, the rain is more likely to solicit a quick one-liner from an oncoming stranger than anything else.
But the difference is while us Brits would normally be complaining about the rain in the UK, the people I walked past here in Kabul were smiling. One even said 'what a great day', and there wasn't a hint of sarcasm.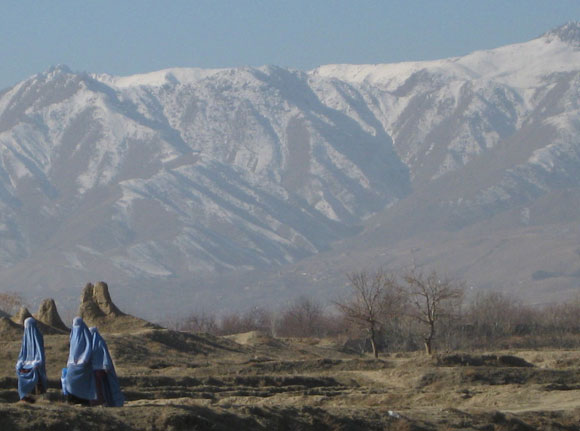 Since the beginning of the year, the Afghan Government and the international community have been meeting to monitor the possible impact of the mild winter. It's too early to tell what the impact might be, but for people like me who have been here for a while, this matter is not so new.
Last year was my first experience of an Afghan winter. Having been warned about how cold and wet it can get in Kabul, I invested in a ski jacket to keep me warm. Every day I'd come into work thinking it's much warmer than I thought and it hadn't rained at all. From memory I didn't have to walk to work once in the rain in January. I was delighted, this was much better than living in the UK.
I had noticed the agriculture advisors talking about the weather a lot, but it didn't seem unusual. Quite often the two agriculture advisors who sit near me would be deeply engrossed in conversations about the potato with the same enthusiasm that you and I would talk about the latest Harry Potter film. I'd just got used to it.
But there was something unusual that made me realise just how important the rain was to Afghans. Everyday when my Afghan colleagues would leave the office they would say to each other how they wished it would rain tomorrow, God willing. Something you definitely wouldn't hear in the office at home.
Drought is not uncommon in Afghanistan. The country was struck most recently in 2008 when the United Nations World Food Programme estimated that almost nine million people were at risk because of the drought and launched a worldwide appeal for help.
Though it is unclear what will happen this year, people are understandably concerned: most still rely on farming in Afghanistan for their income.
The rains came on time last year - just. A spell of rain in February and March led to summer harvests which were bigger than expected. We're hoping the same will happen this year, and the rain today is a welcome sight.
As I am writing this, one of my Afghan colleagues, who has been out fixing our generator, has just walked past me smiling wearing a waterproof coat but still soaking wet. You don't see people smiling like that in the rain in London…myself included.