I'm sitting on a covered patio at the Embassy, watching a Congolese storm brew.  The weather didn't let up all weekend, and it's hard not to see it as a metaphor for the turbulence that has followed the release of the provisional results of last month's elections.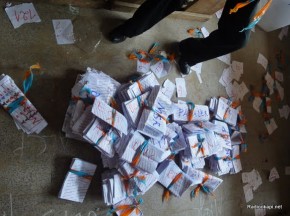 On Friday, the electoral commission announced the tally. 49%, we were told, chose the incumbent president, Joseph Kabila.  32% went for Etienne Tshishekedi and 7.7% for Vital Kamerhe, with the remainder split between the other eight candidates. Turnout was 59%.
To ensure that Congolese citizens, as well as national and international observers, could scrutinise the results, the electoral commission published the breakdown by polling station.
But with this laudable transparency, some observation missions have started asking significant questions. Some have posed the question of how voter turnout of 99 to 100 per cent could have been recorded in a number of voting centres. Others have asked whether all, or almost all, of the votes could have gone to Kabila in every one of those centres with such a high turnout. How were the counts from almost 2,000 polling stations in Kinshasa lost? And what does this mean for the credibility of the vote?
For the Carter Center, which seeks to prevent and resolve conflicts and enhance freedom and democracy, said that it "does not propose that the final order of candidates is necessarily different than announced by CENI, only that the results process is not credible". You can read their full statement here.
Already, at least four people have died in clashes in Kinshasa. A civil society leader in North Kivu was killed in the early hours of Saturday morning – according to his colleagues, due to his questioning the integrity of the election results. And the leading opposition candidate, Tshishekedi, has declared himself president and called for non-violent protests.
Individuals from across Congo and the international community – including the South African President Jacob Zuma, the UK's Minister for Africa, Henry Bellingham – have called for calm and for irregularities to be challenged through the proper channels. There were two days to lodge appeals. Vital Kamerhe registered an appeal on behalf of the opposition, which the Supreme Court will now consider. Final results are due on 17th December.
The question now is whether the squall will blow itself out, or whether the disparate rumbles will converge into a real storm.