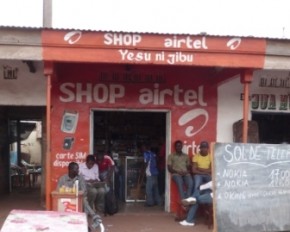 It's fair to say that British Embassy staff in DRC are slaves to our smartphones. Whether we're pruning our inboxes on our way to meetings or surfing the web outside work, we feel as though we can't live without them.
But anyone living outside DRC's major towns and cities has to live without them. Not having a phone or access to the network is the norm. In many of the DRC's remote "island" towns and villages, even physical communication is nigh on impossible due to lack of roads and infrastructure. For many of these communities, tiny local radio stations are often the only way for people to feel an element of connection with the outside world.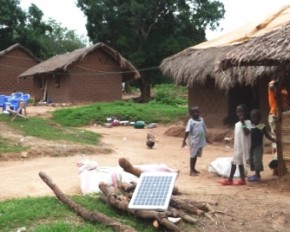 As I mentioned in my last blog, I recently visited health centres and communities without access to electricity. A knock-on impact of a lack of access to electricity is that there's no way to power mobile phone network masts. Villages that are distant from both the electricity grid and major towns are entirely disconnected from phone communications.
So what happens when a child falls ill and the doctor at the local clinic needs specialist advice from the nearest hospital? Or when a farmer needs to know the price of rice, so he can decide whether to make the day-long trip by bicycle to the market? At the moment, they have to take their chances.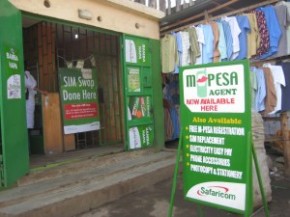 UK aid is increasingly using innovative, locally appropriate technology solutions to tackle some of these thorny development issues. In Kenya, where 80% of the population has access to a mobile phone, British aid has supported the extraordinary success of the M-Pesa mobile banking phenomenon. Now, Kenya is going even further with M-Kopa which allows ordinary people to buy a solar household system for a small down payment, then to pay off the balance by making small pay-as-you-go payments via their mobile phones. Suddenly, a rural farmer in Kenya can have mobile communications, a way to manage their money, and a clean source of light with no running costs, all in one.
M-KOPA has launched M-KOPA Solar which brings high quality day light solar home systems to rural Kenyans on an affordable pay-as-you-go basis using M-PESA.
What an incredible difference the same kind of advances could make for the rural poor in DRC. Such technology has the power to be truly transformative. It can facilitate knowledge, education and healthcare, and improve access to markets. This knowledge can also give people greater control over their lives - the ability to take rational decisions about where to go to get access to goods and services. It can improve accountability, giving people information about local services, and those responsible for providing them, and giving citizens the ability to call foul on poor performance or corruption.
On 13 November DFID is co-hosting the Open Up! conference together with Omidyar Network and Wired Magazine - where entrepreneurs, government and civil society will come together to galvanise action in the fast-growing field of open government. It will explore how digital tools and new technology can change poor people's lives and accelerate development by helping citizens engage, connect and hold their governments to account. You can follow the conference online - it's going to be live-streamed at www.openup12.org/livestream, or if you're on Twitter, follow #openup12.
A country like DRC has the opportunity to leapfrog generations of technological development, and to make great strides in improving services, strengthening markets, and empowering individuals to hold their governments to account.
It's creative, exciting technology - but it's not rocket science.
See this infographic from M-Health Africa on mobile market penetration in Africa.
This is a joint post by Vicky and Chris Pycroft, DFID DRC's Head of Office.