We're getting closer to the official autumn launch of our Development Tracker, which will enable the public to find and explore details and results from international development projects that are funded by the UK government. It's been designed to be really user friendly so that anyone can keep track of the countries and projects they're interested in.
What can I find out?
You can choose to look at regional and global projects, or you can pick a country from the map.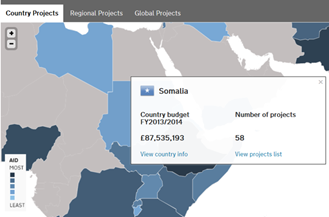 You can find top priorities and country results, such as the number of children under 5 reached through DFID's nutrition programmes, and the number of people reached with emergency food assistance.
You can filter the list of all projects to view them by status, sector, budget, dates and organisations. When you select a project, you can find out which organisations are carrying out the work on the ground, with further details contained in documents such as the business case and annual review. The budget is broken down year by year, with the amount committed, disbursed and spent.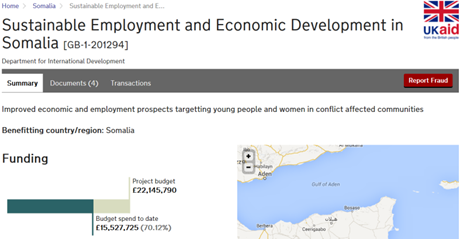 When does it go live?
A 'beta' version of the Development Tracker is live now so it is the perfect time to start exploring, testing and getting used to using the Tracker. It officially replaces the DFID projects database later this autumn as the single source of DFID project information. The team welcomes your feedback so that the Tracker can keep improving.
IATI format
All the data is in a standard format known as IATI (International Aid Transparency Initiative) which makes it easier to compare data between countries and to trace aid funding through the delivery chain.
A multi-partner project such as the Global Poverty Action Fund contains details of the partners that we fund to deliver the project on the ground, such as APT Action on Poverty, Tearfund, Relief International UK and others.
Gradually, partner organisations receiving funding from DFID, such as charities and non-governmental organisations, will publish their data in this format and it will be visible on the tracker. You can also see where other UK government departments are spending on development projects (such as climate change).
Geolocation
We've mapped the locations where our projects are operating - initially this has been done for all DFID Bangladesh and DFID Nepal projects. This will gradually be applied to all countries.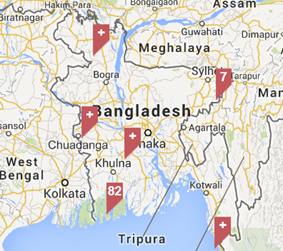 If you click on the flag, you will see details of the projects in that location: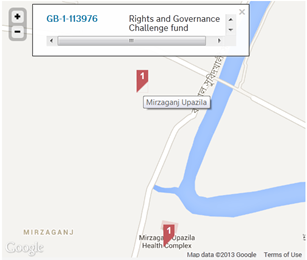 Tablet and mobile phone access
The Development Tracker has been designed for use on a range of devices so you can view the data easily on mobile phones and tablets.
Open source
It has been built using open source software, which allows other organisations to freely share and re-use the data, for example by pulling it through onto their own websites.  The API (application programming interface) will also be released as a publicly open API, allowing developers to access the underlying data.
We will be making the source code for the Development Tracker available very soon, so that others can freely re-use or even contribute to the code. This may give other organisations a good starting point in visualising their own data, and encourage a community of innovative developers to build, share and re-use interesting visualisations built on the data.
So please do try it out, show your friends and family, and let us have your feedback.