Today is International Volunteer Day – an opportunity to recognise and celebrate the work of volunteers who give up their time to make a difference in communities around the world.
This year, International Volunteer Day will acknowledge in particular the contribution of youth volunteers. I had the pleasure of meeting 1 such group of volunteers from International Citizen Service (ICS) on a recent trip to Sierra Leone. ICS is a DFID-funded programme led by Voluntary Service Overseas (VSO), which brings together young people from all backgrounds to fight poverty.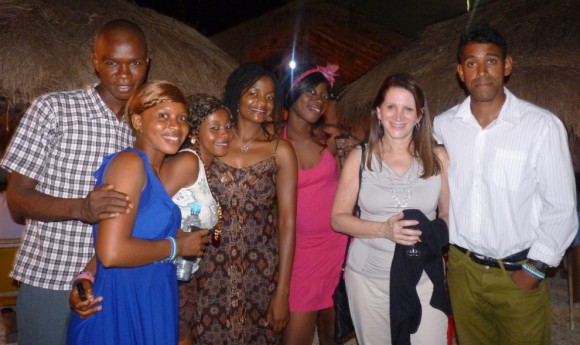 I really enjoyed talking to the team of ICS volunteers (10 young people from the UK and 10 from Sierra Leone) and hearing about the valuable work they are doing. I was deeply impressed by their dedication and enthusiasm.
The ICS volunteers are working on projects to improve the lives of young people in Makeni, the country's fourth largest city. There are 1.7 million young people in Sierra Leone and almost half are unemployed or underemployed – 1 of the highest rates in West Africa. About half are reported to have low literacy levels and lack relevant skills for employment. They are also less likely to know how to access the institutions that would allow them to benefit from and participate in local development programmes. VSO ICS in Makeni is tackling these challenges by providing opportunities for young people to gain skills, knowledge and experience to get involved in development and take action to address the community issues that affect them.
In Sierra Leone, some young people steal to eat because their families are so poor. The ICS volunteers are working with the police's family support unit to look at why young people commit crime, to increase understanding of the deeper causes of juvenile offending and the pressures on young people. They are also working with Defence of the Child International on the proper treatment of youth offenders, to make sure they aren't treated like adults and put in adult cells.
Some children are taken out of school by their families so they can work on the family farm. The ICS volunteers are working with ActionAid to train and support child ambassadors so they can intervene in situations like this, where other children in the community are being abused or are having their rights taken away.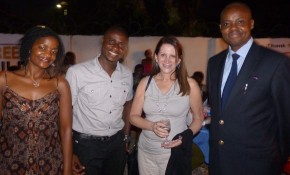 It was inspiring to hear about the work the volunteers are involved in and the experiences they have had on this project. Each UK volunteer was hosted by a local family, and by talking to them I got a real sense of their personal stories. I understood how genuinely exposed they were to real life in their host community, and how aware they had become of the challenges faced by young people, especially women and girls, in Sierra Leone. The volunteers all lived without water and electricity, and 1 was living in a family with 4 wives. The volunteers were all very enthusiastic and dealt really well with the challenges they faced during the trip.
I am so grateful that I had the opportunity to meet these extraordinary young people during my trip. I am very proud of them and of the positive impact the ICS programme is having in Sierra Leone, and today, on International Volunteer Day, I want to thank them.
If you want to volunteer with ICS, or know a young person who'd like to join 1 of the programme's many overseas projects, please visit the website.