Christmas Day on camp will mean roast turkey and all the trimmings, served by the civilians, officers and senior non-commissioned officers.  There'll be a carol service in the chapel, touch rugby, Christmas films and of course the Queen's speech.  I won't be there - I'm quite sad to be missing it - but with a grandmother turning 90 I have to get back home.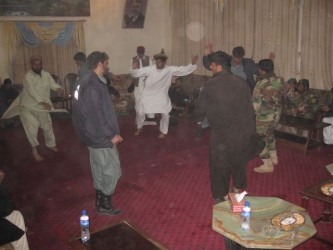 Some of our celebrations are extended to our local partners and they, in turn, invite us to their dinners to break Ramadan fasts (called 'Iftars') and join their Eid festivities.  To celebrate breaking the fast, I went to an Iftar with the Governor of Helmand and around 70 of our local government partners at a venue in Lashkar Gah.  We had a glorious meal of chickens stuffed with local almonds and raisins - two of Afghanistan's most delicious products - as well as goat, bread and sour yoghurt.  Last week was Eid-ul-Adha.  To celebrate, FCO, DFID and military colleagues danced the evening away to a local band (or, more accurately, sat and watched while their Afghan friends showed their moves) with the Deputy Governor and his guests, after eating an entire lamb.
For Christmas we will invite our local counterparts to celebrate with us - though rather than serving them turkey we'll return their Eid generosity and provide a whole lamb.
Those who are spending Christmas Day on the base will be served turkey and other roasts, with options for the vegetarians and for any of the Gurkhas who prefer something more Nepalese to our very British fare.  There'll be sprouts and stuffing and mince pies and even After Eights, as well as crackers and party poppers.
Because the local markets don't necessarily produce the food we consume on camp, and because the quality and consistency of the supply of Afghan produce is difficult to guarantee, most of our food comes from beyond Afghanistan's borders.  From a development point of view, that's not ideal: we'd like to see the local economy supported as much as possible by the large international community, without distorting the market.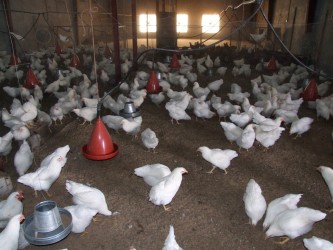 For that reason DFID have launched a local procurement programme, to link up the supply from Afghan farmers and food processors with the demand from our hungry international military and civilians.  This time next year, we'll be writing about a delicious Christmas dinner featuring Afghan potatoes, carrots and - who knows? - turkey.  We've already got a chicken farm up and running and I'm sure we could extend our fowl thinking.  And we'll have to get creative to ensure the raisins and almonds, not to mention the famous Afghan watermelons and pomegranates, make their way onto the great British Christmas menu next time around.