If you look back to one of my earlier postings: Death on the Roads, you will note I have already highlighted the pitfalls and dangers on the open highways of Nigeria. Last week was no different, as I left Kano there was another burnt out minibus - ten people burnt to death in a collision with another vehicle carrying jerry cans of fuel. Cargoes of fuels are common place at the moment given the tanker driver strike and the inevitable lucrative trade in black market petrol.
Later that day in Nigeria's 'middle belt' en route to Niger State a motorcycle 'taxi' with driver in flip-flops and baseball cap pulled straight out from a side road into the middle of the expressway. A screech of brakes and luckily my driver managed to lose enough speed to avoid a head on fatal collision. The motorcycle was knocked down; but luckily only minor damage and a police witness supported our case. A large crowd of on-lookers came to gawp, but we managed to leave in 30 minutes, after providing transport money for the motorbike rider to go to a clinic for a check-up.
After such instances I sometimes wonder about links between education and an understanding of risk or 'risk avoidance'. Motorcycle helmets were only recently made compulsory in Nigeria, but like most laws, enforcement is lax and suspicions over motives (such as black magic) are commonplace.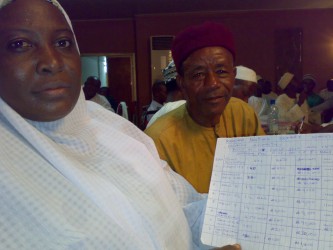 I visited Minna in Niger State to see first hand the progress being made by the UNICEF managed project Girls Education Project that DFID finance. Arriving at dusk it was really heartening to meet head teachers and community leaders from 60 primary schools drafting plans and grant proposals.  Each would receive a cheque worth around £1,000 to spend according to the community's priorities, to improve the school and get more children learning, especially girls. Most were keen to see building renovations ahead of the rainy season: it was great to see such enthusiasm and see the communities and State Government commit additional resources to the process.
The next morning we were invited to visit Gunu primary school that decided to spend most of its grant money on furniture: this was welcome as last time I had visited there was a whole mass of young kids squatting on a crumbling bare concrete floor.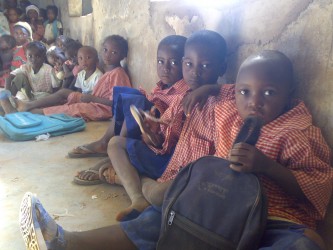 There was a large community meeting on the classroom, with around 150 people, mostly mothers, packed in. Interestingly despite recent violence in other areas of Nigeria's mid-belt, Christians and Muslims mix freely in this school and prayers in both faiths were given at the start and end of the meeting. With support from the Girls Education Project since 2005 enormous gains had been made at this school especially in respect to the rights and expectance for girls to attend school.
We asked how many of the 100+ women present had completed primary school: only 3, perhaps 4 hands were raised.
And are Members of the School Management Committee?  The same 3 hands.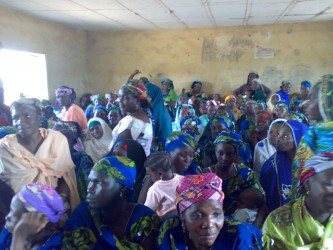 Who owns and uses a bed net to avoid malaria?  The same 3 hands.
The link between completing basic education and the effect on your livelihood was compelling: literacy and respect in the community that you are called on to represent. An understanding of the risk and transmission route of malaria, so that simple avoidance steps are taken. Malaria is a huge killer in Nigeria, leading to an annual death toll of an estimated 250,000 young children (under 5s). DFID and other aid agencies are currently supporting a huge campaign that will literally blanket the country with about 60 million mosquito proof bed nets.  But of course at the village level these basic education 'life skills' are necessary to understand why the nets will help if used properly and dispel myths and superstitions that discourage use.
The final question to mothers at the school meeting: "How many of your daughters will finish primary school?" and an army of hands were raised, of women who had missed out during the years of corrupt military misrule and were determined to give their daughters a chance of a healthier, better educated life.