Working for an organisation that funds development work (in my case DFID) means that I frequently receive requests from worthy causes for financial support. I recently got a call from a Western volunteer living in Nigeria with a difference; a brand new school built deep in the Niger Delta that has facilities and funds, but no teachers and students. What it needs is a workable legal structure.
The Maureen Matheny Academy is located deep in the creeks of Bayelsa State in the oil rich Niger Delta of Nigeria. It is the dream of Olympic gold medalist and native son of Bayelsa, Baraladei Daniel Igali, who wrestled his way to glory at the 2000 Sydney Games.

Daniel wished to help the Eniwari people, who had gained little from the 'black gold' pumped from below their lands and have very limited access to social services such as schooling and health clinics. Located deep in the mangrove swamps and creeks, access is difficult; villages are often only joined by waterways. Navigating the river can be complicated and risky due to an increase in established militant camps and an insurgency that is countered by military operations.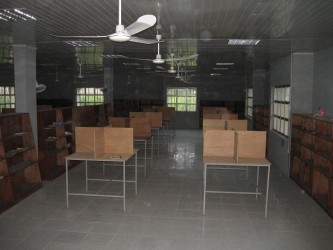 Daniel formed the Igali Foundation and diligently managed to raise funds both in Nigeria and abroad in Canada where he settled. Canadian volunteers working with the community for several years completed the main school in 2006 - eleven classrooms, an administration building; an auditorium; a library; a computer lab; and teachers' quarters.  Further fundraising is ongoing and the Igali Foundation has ambitious plans for the Academy. Generous sponsors are lining up computers, library books, clean water - things that many schools in Nigeria can only dream about. However despite the desperate need for education, the school has struggled to operate for almost 3 years.
This school doesn't really want for funds or resources, but to function it needs something more fundamental - a level of peace and security in the vicinity and what in DFID we call 'good governance' - boring but important stuff like a Board of Governors, an admissions policy, a Public Private Partnership arrangement to regulate both Bayelsa State Government and private financial inputs. Without these the school is unlikely to really make a positive impact for the local Eniwari people and risks becoming an abandoned 'white elephant'.
I highlight this case not too denigrate the effort and resources that have gone into the Academy, the dedication and vision of Daniel and the others volunteers involved are to be applauded. I wish it every success and have passed on some contacts that may be of help in determining how best to manage the school and get it open as soon as possible. I'll try to keep you posted.
DFID in Nigeria tends to finance the improvement of government systems and planning processes, rather than fund schools like this directly. This is to ensure that good resources like this are ultimately effective and workable. The large volumes of unused government finance (see my earlier blog on the Education Trust Fund) has led to this approach - although it's a tough choice when the need for good facilities such as those at the Academy is so pressing.
I merely wish to make the case that many of Nigeria's problems cannot be solved by money or 'aid' alone, and in the Niger Delta the curse of 'natural resources' is extreme - oil worth US$ millions flowing for decades through communities that receive little except for pollution and violence.