I've been away on holiday in Europe for a few weeks in July, it was incredible to see the change to Kano when I got back. Same old crumbling cement blocks, pot-holed streets and blazing sun. But after regular rainstorms for a month all the verges and wasteland have transformed from dusty waste to a blanket of green. It's both pleasing to the eye and also helps to hide all the plastic bags and litter. Hopefully the grass will last long enough to please the eyes of visiting dignitaries from FIFA, who are, this autumn, assessing Nigeria's readiness to host the Under-17 World Cup.
For DFID's two major education programmes in Nigeria, it is 'review time', an annual process in which we travel around the States that we support, engaging in consultations with Government, stakeholders and our technical programme teams.
Using external consultants with independent opinions to review the work of consultant teams ('Technical Assistance' in development speak) generates plenty of debate and a morass of soft copy documents and reports with track changes and comment bubbles - what is a fair assessment of performance and how can we be more influential in days ahead?
Judging programmes that aim to support and work with governments is very subjective; were the set backs due to an unrealistic College of Education reform plan or the fact that the teachers' union went on strike for several months? In contrast, producing results of specific outputs: how many anti-malarial bed nets were provided (click for the answer), is straight forward.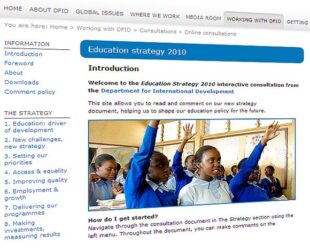 Of course a fundamental reason that we do reviews is to learn lessons and hopefully do things better in the future. DFID's whole approach to education development is under review and as we committed to in the new DFID White Paper, a new education strategy is being prepared. You can learn about the draft and add your own comments via the public consultation website. It's important that we have a good range of views about how and where we work. What do you think DFID should be prioritising in education?
I'm off on the road next week on the review of DFID's programme with UNICEF, to support Girls Education in Northern Nigeria. We'll see what we've learnt there...