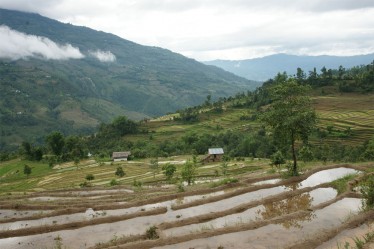 A while ago I wrote about how Nepal was waiting for the monsoon rains to come. Well, they're here now, but unfortunately things are still not good. The rains that have come are not "good" rains. Firstly, they are late – the normal monsoon should start on 10 June (yes it is that precise!), but this year didn't start until June 23rd. And when the rains did come, it was very low precipitation – the rainfall was only 66% of normal rainfall. And this was during paddy planting season. The photo above shows what the paddy should look like.
The Ministry of Agriculture reckon that all 75 districts are affected by a drought and that planting couldn't take place in about 10 – 15% of paddy. And where it was planted, some of it has dried. This photo, left, was taken in Rudrapur in Rupendehi District about 10 days ago, at what should have been the height of the monsoon, and you can see from the picture that what should be squelchy wet paddy is dried out.
This is after a winter where there was also less rain than normal, so wheat and barley production are down by about 15%.  All in all the food situation in Nepal is looking pretty serious.  The estimated total deficit in food production is about 400,000 metric tonnes.
The government has already proposed a number of programmes to provide people with food, and also to provide winter crop seeds and fertilizer to try to help people get back on their feet. Last year we gave £5.4 million to the World Food Programme for emergency food supply. We'll need to watch the impact of the failed rains closely to see whether more support will be required this year.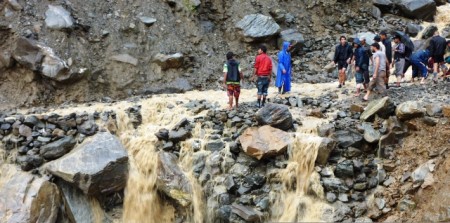 And just to complete the picture, in some areas where there have been rains, they have fallen hard and fast, resulting in floods and deadly landslides. Landslides don't only wash away homes, they also wash away roads, which as I've said before are vitally important in connecting people to markets and basic services. Here is a picture of a group of people in Ramche, Rasuwa District, where the community were rebuilding the road after a heavy downpour so that transport, buses etc could start moving again....you can see the water is still gushing through. Our roads programme will help to rebuild some of these roads, and we collaborate with the Asian Development Bank and World Bank to support the government to maintain and construct rural roads. As climate change will make these downpours more likely in future we have reviewed the design of our roads and increased drainage and landslide proofing measures – this kind of adaptation to climate change will be needed across all sectors, from roads to agriculture to health, and is part of the work we are doing with government and others on climate change.