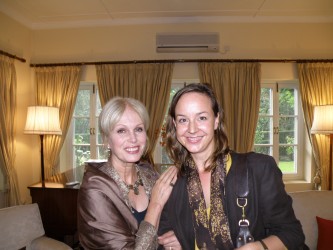 Just in case you've missed it - Joanna Lumley is in Nepal this week! She's been called a "Goddess of Nepal", and has arrived for the first time to meet Gurkhas and their families, for whom she has campaigned so successfully. I met her earlier this week and she's lovely – down to earth and charming!
Here's a photo of us at the British Embassy. Anyway, celeb-fever aside, while she's here, we also took the opportunity to show her a little of what DFID is doing here to improve the lives of poor people. As her main interest on this trip is specifically the welfare of Gurkhas and their communities, we showed her some of the work we have been doing for the past 20 years in support of the Gurkha Welfare Scheme (GWS).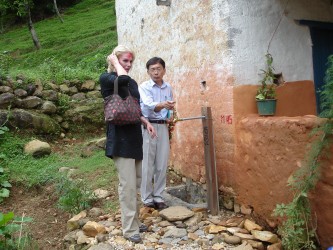 Joanna (I take the liberty to be on first name terms) went to see the Chaura water project near Pokhara in central Nepal. Here she is by a temporary tap with Captain Bhakta Bahadur Rai, the GWS Programme Director. DFID has invested around £14 million in projects such as these, building over 800 rural water and sanitation schemes, which we estimate will have benefited more than 160,000 people.  We are working on nearly 160 new schemes, which we hope will reach an additional 33,000 people in rural areas. Water is of course important not only as a safe source of drinking water, but also to improve hygiene and prevent disease. It also saves time, as it is often women and children who have to spend sometimes several hours a day going back and forth up and down mountains to fetch water. That time can now be spent more productively going to school or working in agriculture or small-scale businesses to increase their income. So the benefits are significant.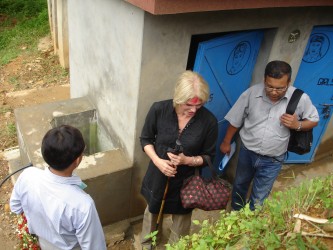 The Gurkha Welfare Scheme also helps renovate and build schools and bridges. Joanna got to visit the newly-built school toilets with our Infrastructure Advisor, Chandra Shrestha, on the right of the photo. Clean and safe toilets make a huge difference to girls' attendance in school. The Scheme also provides medical care to remote areas - about 14,500 people received medical assistance through the scheme in last year. And when we say remote, we mean remote. The doctors and medical staff that provide this service sometimes need to walk for days to reach the communities they are serving.
Of course, Gurkhas do not live in tightly defined, ring-fenced communities, so our programmes will also of course benefit the wider rural community. And support we have provided to rural communities in Nepal, will also have benefited Gurkha communities as well. So facilities such as over 200 health posts and 20,000 toilets in remote areas, 2,500 schools or community centres and safe drinking water for around 75,000 households which we have built through our Community Support Programme will also have benefited Gurkha communities. As does our support to health and education across all of Nepal. The fact that there is peace in the country also makes a huge difference to people's lives, and the UK is supporting the peace process, both politically and where we can, financially (for instance, through our support of the 2008 elections).
This trip for Joanna is quite rightly very focussed on the Gurkhas. But we would like to invite Joanna to come back to Nepal to see more of the country and to see what the UK, through DFID, is doing to help people here. It would be a huge boost for development in Nepal – she is not only a Goddess for Gurkhas, but for the whole of Nepal.  So here's hoping we can make that happen!