I wrote about how climate change is affecting Nepal a few weeks ago, when I was lamenting that the monsoon was late and then, again lamenting (!) that the rains had finally arrived – too late for a lot of the rice to be planted, and causing chaos and misery due to flooding and landslides.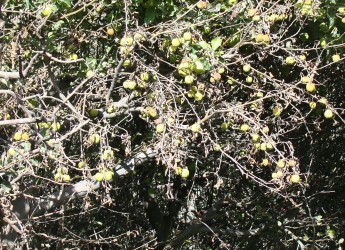 It seems that everywhere I look at the moment I am hearing stories about how climate change is affecting people's lives here – in really tangible ways. The Nepali Constituent Assembly Member, Sunil Pant, recently led a cross party mission of MPs to the district of Mustang, in Nepal's Himalayan region. There the MPs saw and heard evidence that the communities were finding hard to manage changing weather patterns, growing incidence of extreme weather events such as frequent droughts and floods, break out of crop diseases, livestock diseases and conflicts over sharing scarce water. A lot of people are now aware that the glaciers are melting, but for example, the apple farms in Mustang are being devastated as warmer and drier winters and high temperatures have meant that the quantity and quality of apple productivity has gone down; the houses are made with clay roofs, which should be able to withstand snowfall, but are not designed to withstand the heavy rains the villagers are now experiencing; and goats and some traditional crops are dying due to new kinds of diseases (see photo) that the farmers haven't seen before and are attributing to the changing seasons.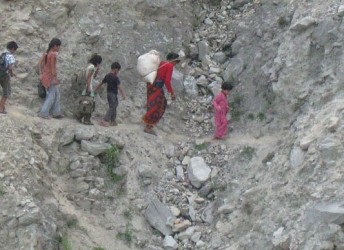 But it's not just in Mustang that climate change is being felt – it's all over Nepal. Pasang Tamang, has spent 50 years of his life in Ward Number 4 of Bhorle Village in the Rasuwa District. According to Pasang, the temperature has definitely increased. Papaya never used to grow in his yard but now it bears fruit. A local flower, Aaru, used to bloom in March but now it blooms much earlier, starting in December/January, similarly, another local plant, the Shorea robusta (I don't know the Nepali name) has started shedding leaves much earlier than before. Pasang is also worried because landslides have already destroyed 13 of the 15 water mills in the Ghatte River, the river that borders ward 1 and 4 of Bhorle. And again, stories of increased instances of diseases, this time in people – according to Pasang diseases such as jaundice, which were unknown to him and his folks in the village until a few years ago, now seem to be spreading rapidly.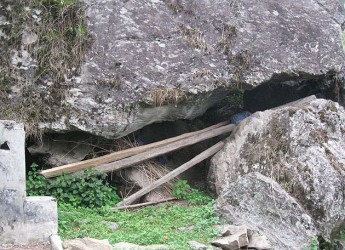 Now I'm no expert, but something bad is going on – directly affecting people's lives - and climate change seems the most likely reason. It must be pretty scary when seasons and patterns that you have lived with all your life (and for generations before you) suddenly start changing in a few short years. This is why we are trying to do what we can in Nepal to help people adapt to climate change, so that they can at best live with, and perhaps even benefit from, these strange changes that are happening in their villages.
This blog features as part of Blog Action Day and the Act on Copenhagen campaign