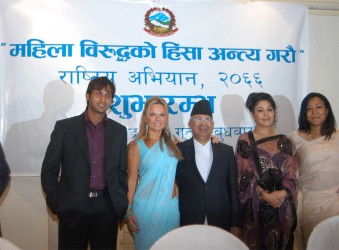 As you may have seen from the press, Geri Halliwell (ex-Spice Girl) was here a few weeks back as a UNFPA Ambassador to help raise awareness of women's issues in Nepal. While here, Geri helped launch a Violence Against Women campaign together with the Prime Minister of Nepal, visited a number of programmes run by the UN to provide support and protection to abused women, and she also met Sapana Malla, a member of the Constituent Assembly (an MP) and also a powerful and impressive advocate for women's rights in Nepal.
Violence against women is an incredibly important issue here and it was good to have a celebrity such as Geri to help create awareness both here and abroad about the awful situation that many women in Nepal face, often in their own homes. In fact the more I get to learn about the position of women here in Nepal, the more shocked I become. I recently learned that the number one cause of death for women of reproductive age is suicide. That's a truly dreadful statistic and we don't know enough about what lies behind this, but one can assume that these women must have suffered pretty appallingly before they resort to suicide. And unfortunately much of the time victims of abuse or violence, or the victims' families, have nowhere to turn for help, safety or support.
Let me tell you a very tragic, true story that happened just the other week, very close to home.
A colleague of mine was approached by her housekeeper whose sister had come to her very upset because a neighbour's 12-year-old daughter had been found raped and murdered earlier that day. The girl was from a poor family, and the family believed the perpetrator was their wealthy landlord's son because he had abducted her a few days earlier. The family were trying to contact the landlord to talk to him about the abduction, but had not been successful.
It is important here to emphasise how rich and powerful landlords in Nepal can be and how poor and powerless the tenants. After the girl had been missing for 3 days her parents found her body in nearby woodland. They went to the police to file a report, but the police initially refused. Then they changed their minds and agreed, but only if the family paid them a large amount of money (which they did not have). It was at this point that the housekeeper went to my colleague and asked for help.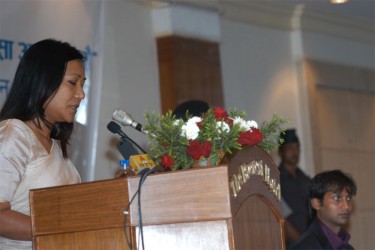 My colleague called Sapana Malla, the MP and women's advocate I mentioned earlier, and asked for help. They went early the next morning to the police station. Once confronted by Sapana and her team, the police then filed a report with no payment from the family. The next day, the suspect (and a friend) were arrested and the police were saying that they would not be allowed bail as the charge was so serious.
In this case, Sapana and her team will continue to provide support to the victim's family. Obviously it will not bring the little girl back, or undo the dreadful crime, but it does mean that the family have a chance at some form of justice, which it looks unlikely they would otherwise have had.
It is women like Sapana and her team who we in DFID want to support more, so that they can help more families like this, and try to remove the sense of impunity that exists. We are looking at how we can increase local level support, maybe through training to police stations, maybe through support to local level legal centres, where people can go in cases such as these. Poor people otherwise have very few options and, if it hadn't been for the housekeeper's plea for help, in this case also the family may have had nowhere to turn.