As this is my first blog since the Copenhagen climate change summit – or the 15th Conference of Parties to the UN Framework Convention on Climate Change, to give it its full title – I did not have to think too much about my topic. What does Copenhagen mean for India? India's media, civil society and political classes have been debating this question intensively since the summit closed.
One clear strand of opinion – especially prevalent among environmental campaigners and India's strong NGO community – is that Copenhagen was a disaster for the world's and India's poor, who are most vulnerable to climate change. A typical reaction is that of the Centre for Science and Environment, one of India's leading environmental thinktanks.
At the same time, the Indian government has come under fire from those who believe it went too far in announcing, on the eve of Copenhagen, a voluntary target to reduce India's "emissions intensity" – the amount of CO2 emitted per dollar of economic output – by 20-25% below 2005 levels by 2020. According to these critics, India should have made no such commitments given its poverty levels, its very low carbon emissions per capita and the historical responsibility of the developed countries, who have failed to meet their own emission reduction targets.
Other domestic voices – admittedly a minority – have praised the Indian government for showing a willingness to be part of the solution even though India bears no historical responsibility, thus playing a constructive role in negotiations.
By far the most interesting and encouraging sign for me, however, is that India is not standing still waiting to see what emerges from the Copenhagen Accord. In the absence of a strong and binding international agreement, action on climate change will have to be driven by domestic benefits – and there's every sign of this happening in India. Earlier this week the Minister for Environment (who featured in my last blog) gave a strong message to this effect.
Two impressive initiatives launched shortly before Copenhagen are the Jawaharlal Nehru National Solar Mission which aims to expand India's solar power generation from its currently negligible level to 20,000 MW by 2022; and a new National Biomass Cookstove Initiative. The latter is truly exciting in that it promises to reduce carbon emissions whilst also tackling indoor air pollution – rated by the WHO as the third greatest risk to health in India.
There are many more examples of action, many of them from the "bottom-up" – from the private sector or local governments. It's fertile ground for DFID cooperation, since we aim to put development and poverty reduction at the heart of our work on climate change. Improving the health of the poor, for example, is one of the main objectives of DFID overall in India. Last Wednesday I was chatting with Sabina Barnes, one of DFID's team of Health Advisers here, who helped organise a conference a few months back on climate change and health. The conversation turned to the new cookstove initiative and how this could contribute to better health, particularly in rural areas. Sabina immediately saw the links, and we agreed to stay in touch on this issue.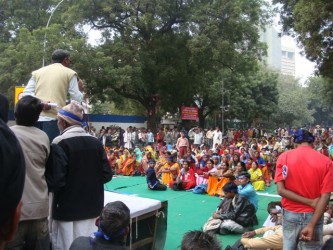 Finally, a word about the photograph. I took this at the annual march to Parliament of the National Confederation of Dalit Organisations, representing India's former "Untouchables" and other socially-excluded people. It was just before Copenhagen – and for the first time ever, "climate justice" featured as one of their key demands. I wondered whether this was a sign of things to come, and if the voice of the poor themselves will start to be heard in the debate now hotting up.