Another leader making waves, this time of education reform, is the Hon. Commissioner of Education in Kwara State, Mr Bolaji Abdulahi. DFID education programmes have been working in Kwara since 2007 and we have constantly struggled to keep up with his whirlwind pace of reforms, aimed at getting the school system back on track. Bolaji speaks with conviction and passion about education and is able to bring about change. 'Help us test all the primary teachers' (see earlier post) - so we did in 2008 and he wasn't afraid to hide the poor results.
Since then the pace has been unrelenting. The College of Education at Oro is being transformed, with a reformed curriculum for teachers like Mrs Adenekan above who want to teach and teach well. The mass of students looking for an easy diploma are gone.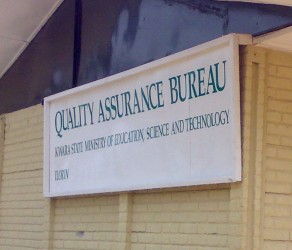 Last summer I visited Commisioner Bolaji as the School Inspectorate was evolving into a school friendly Quality Assurance Agency. Staff were reapplying for jobs and only the 'fittest' would survive. A similar whirlwind was blowing through the system and an e-payment system had helped to expose fraud and 'ghost' workers on the payroll. New education legislation is being introduced to clarify roles and responsibilities.
The Kwara State Schools' Improvement Teams (Lagos's team was featured in a recent post) are now moving to improve the quality of learning in the core subjects and Commissioner Bolaji has set high standards for improved exam results and is laying on extra classes.  His advice to parents on home study remains old fashioned but wise: 'If the room your child will study in has a TV, remove the cord. For those with handsets, take it away from them till the examination is over…"