Today, as many of you will know from the huge number of amazing events taking place around the world, is the 100th anniversary of International Women's Day.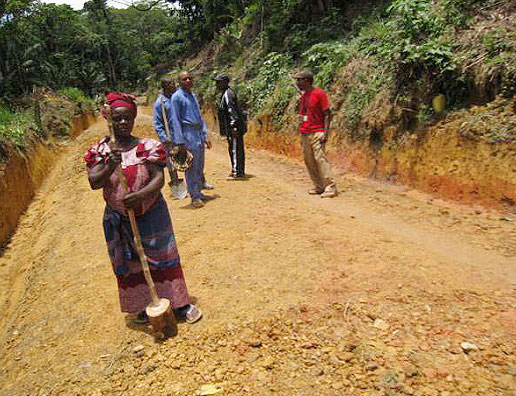 Women's issues might not be the first thing you think about when you consider roads and infrastructure in developing countries. But infrastructure is important for development because it provides economic opportunities and access to services. And it's crucial that these benefits are shared equitably – between women, men and children, and with marginalised groups and the poorest.
In DR Congo, we ensure that our roads programme include targets on, for example, employing women. This isn't always easy, as there's an assumption that the kind of work that's required to build a road won't be suitable for women, given their traditional roles in the family and the household. Which means that communities and aid charities need to get creative – for example, thinking about having all-women teams doing certain kinds of work on the roads, and training women to ensure they're equipped to get involved.
It's a good time to reflect on these issues, as friends and colleagues around the world attend the day's events. Here in Kinshasa, the President, his wife and other key figures are attending a parade on the main boulevard of the city. The theme is equal access for women, men, girls and boys to education, work and opportunities to ensure an equal DR Congo.  But the country is starting from a very low base: this is one of the most dangerous and difficult places in the world to be a woman.
Meanwhile, the events that I'm most sad to miss back home are being organised by EQUALS, a brand new partnership of more than 25 leading charities from Oxfam to Save the Children, brought together by Annie Lennox to celebrate the centenary of International Women's Day and step up the call for a more equal world. I would love to be dancing at the Soul Train this afternoon, but instead I'll be celebrating International Women's Day in my own way, by focusing on how best to help the women of the DR Congo.