Recently I was in Helmand to help roll-out a programme on DFID's Bilateral Aid Review. As you might know from reading my last blog, my role here is to roll out key services for the Afghan population in the provinces, so a lot of my time will be spent out of the capital.
It's in the provinces you notice how far this country still has to develop. Kabul looks like the capital of many other developing nations – but in the provinces many houses are still constructed of mud, with very basic access to healthcare and education.
The past few months have been an incredibly busy time for DFID, as everyone here has been working round the clock to finalise our Bilateral Aid Review. This is a DFID-wide programme which sets out where the department will be investing its money to tackle poverty. It's vital work – and increasingly DFID will be concentrating on countries where UK aid will achieve the best results in fighting poverty. Fragile states and countries affected by conflict like Afghanistan will receive up to 30% of Britain's overall budget.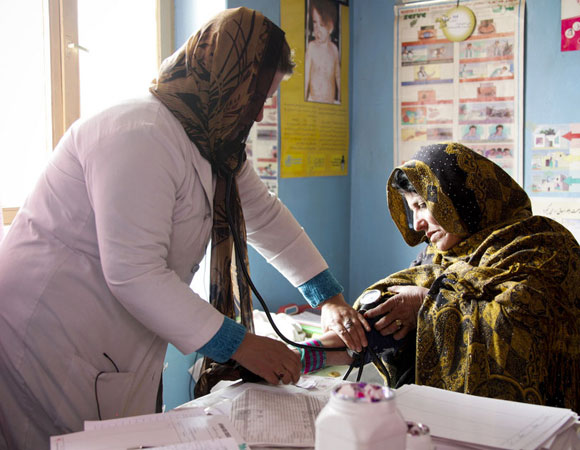 Within Afghanistan, our programme will focus on improving security and political stability, stimulating the economy, and helping the Afghan Government deliver vital basic services.
The more I live and work in Afghanistan, the more I see the difference development work is making here.
You see crowds of girls happily chatting together as they walk to school. It really is a heart-warming sight, knowing that it would have been unthinkable under the Taliban – when girls' education was banned.
Worldwide, the Bilateral Aid Review will stop 250,000 newborn babies dying, secure schooling for 11m children, and save the lives of 50,000 women in pregnancy and childbirth.
It's all vital work – and it's end results like this which I keep in mind whenever things might feel a little tough working out here, or whenever progress doesn't seem to be happening as fast as I would like.
Well, it's amazing how quickly the weather has changed in Kabul. Just the other week there was a massive snowfall – the whole city was under a white blanket.
When I asked one of my Afghan counterparts how soon until spring arrived (very British of me to ask about the weather, I know) he surmised that the temperature would start to rise in the next few weeks. Sure enough, he was right. And now the city is bathed in sunshine everyday. Spring has well and truly arrived. I wonder if the warm weather brings with it a sunnier future for the Afghan people. I certainly hope so…