Last week I left Afghanistan for good. When I said goodbye to our local staff member in Helmand he asked "will we see you again in Helmand Province?"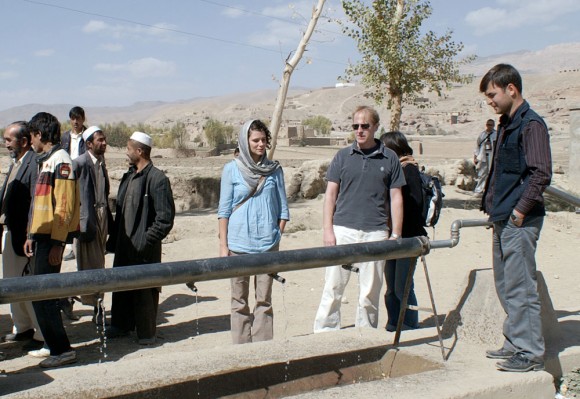 "Probably not," I replied.
After making Afghanistan my home for the last 2 years, leaving isn't easy. But as I say my goodbyes and pack my bags I am leaving with a sense of pride.
Not only pride for the work that we do here, but also the whole international community and the Afghans who often put their lives at stake to help develop their country.
When you're at work here, like any job, the day-to-day setbacks can make delivering anything by the end of the day (and even after two years) seem impossible. But the reality is we've come a long way and I have been lucky enough to be part of that.
Over the past two years, through the projects I have managed we have constructed four provincial roads linking markets in Helmand to main highways, designed and started the construction of Helmand's first business park which when complete will house between 25 and 40 local businesses, and helped train farmers in Helmand to grow and sell crops like strawberries, when previously opium may have seemed their only option.
I've met children here who are the first members of their family to have a formal education, farmers who through DFID-funded cold stores can preserve the crops they grow to feed their families all year round and men who at the age of 65 are voting for the first time. These small things matter to people here, and I can't help thinking that if the people at home could meet them they'd be very proud of the work we are doing.
I'll miss watching my projects grow and meeting the Afghans who deliver them for us to benefit their own communities. I'll also miss the people who work alongside me – civilian and military – Afghan and international.
When I was leaving Helmand for the final time last week I happened to be sat in a car with a female barrister. She told me she'd taken a year's sabbatical from her job in London to spend 12 hour days in Helmand working with local legal systems to improve their performance. "Why?" I asked. She explained: "at home I work all day on my own, but here I get to be part of a team."
And it really is a team – military engineers, nurses from Denmark, political experts, seed analysts, combat troops…the list goes on and on. And we're all here working towards the same goal to support this country to secure peace, have a functioning government and achieve economic independence.
It's not easy and there are risks. At times I've wondered why I've left my family at home for this life. But as I pack my bags to leave one last time I do so with a smile knowing it was worth it.