My arrival in Afghanistan coincided nicely with the weather warming up, but until now I didn't feel I'd seen as much of Kabul as I would have liked. My routine is more about meetings with government and partners. I finally got my chance and went to Babur Gardens, or to give it its full name, The Bagh-e Babur, once one of Kabul's top tourist spots. Babur was the first Moghul emperor who greatly loved Afghanistan. When he died in 1531 he was buried initially at Agra, in India, but nine years later his body was exhumed and he was buried in the beautiful gardens of Kabul, a place he dearly loved.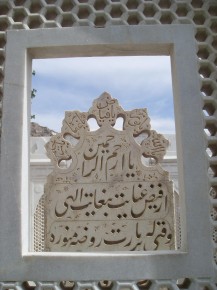 Today the gardens and his tomb have been renovated, but decades of war have left their mark.  I'm no horticulturalist, but as a garden it wasn't particularly special, just more of a public park.  What was special was that it was absolutely packed with Afghans relaxing and having fun on their day off.
There were families picnicking under the shade of ancient trees; young trendy lads in tight jeans and spiky hair; old men wearing traditional clothes and the Afghan, tea-cosy-like hat, the pakul, playing the Afghan version of chess and there were many children. The sights and sounds of children rolling down the slopes of the gardens, children laughing, and toddlers having tantrums was great to see. I thought of my delightful godchildren, eight-year-old twin boys and the fun day we spent going around the Sculpture Trail in the Forest of Dean, just a fortnight earlier.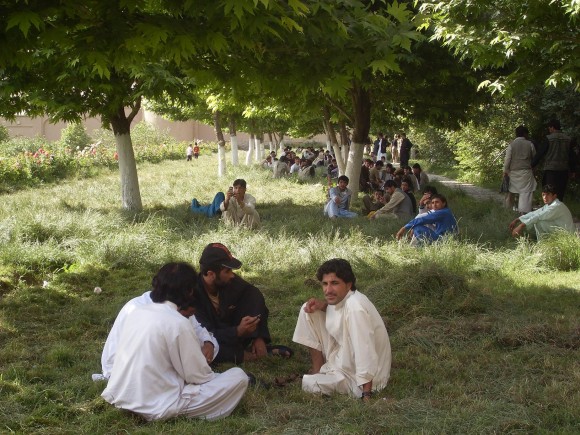 Men made up most of the people at the gardens but there were plenty of women too, enjoying themselves. There were a few ladies in flowing blue burqas but many more in shalwar kameez - long tunic and baggy trousers - with headscarves and a handful in entirely western clothes.  We were the only foreigners here and of course we caused quite a stir.
We sat down in the shade to enjoy an impromptu picnic like everyone else and soon a crowd gathered to stare. It was surreal. The security guards were overly officious, shooing away anyone who came within five metres of us.  I was determined to break out of this and had spotted a group of women picnicking a little away. Taking some of our muffins and crisps with me I walked over, said the traditional greeting of 'Salaam' and offered the food. I don't know what I expected, I can't speak any Dari yet, but I knew how important hospitality is in Afghan culture and I just desperately wanted to interact with some ordinary people.
There was no shyness, I was warmly welcomed and invited to join them on their mat and we shared food. Two of the women were living in Canada and had come back to Kabul to visit their families. They could speak English and I was introduced to everyone. I was bombarded with questions. This was the first time, the two Canadian Afghans had been home for three years. I asked them what they thought of Kabul. They felt in many ways it was much improved: there were more shops, people were more affluent and security was better. They were having a wonderful visit.
A little nervously, I asked what they thought about the future. When my question had been translated, they are understandably nervous as to what would happen when international forces withdraw by the end of 2014. We are all uncertain about the future. There is much to do and much of my daily work is around ensuring that our programmes support a successful transition of security to the Afghan national security services.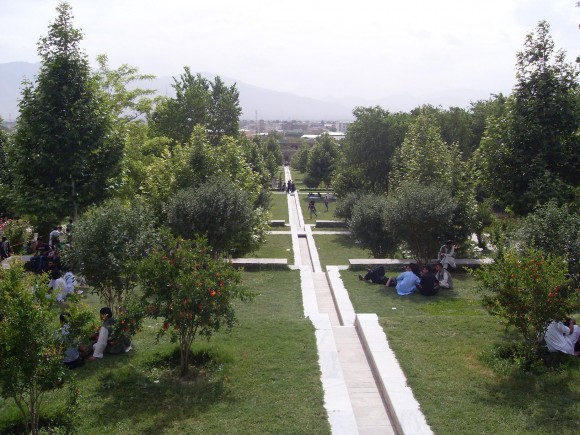 My visit to Babur Gardens gave me a vision of what we can help the Afghans realistically achieve. A fully democratic state, where corruption is not tolerated and human rights are widely upheld would be ideal. But most of us, including the Afghans, are realistic and will settle for less.  Most Afghans just want a country where they feel safe and secure enough to visit a park, and where they are not so impoverished that they can take a day off from work to relax.
The Moghul empire that Babur founded tolerated religious difference, encouraged education and the arts. An Afghanistan that can deliver even a fraction of this is possible. How wonderful would it be if I could take my godchildren to these gardens in four or five years time?