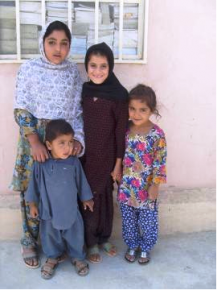 I spotted a little girl squatting quietly against the school wall watching the buzz of our official welcome at Tortank Girls' School in Lashkar Gah. We were greeted by staff and students with a song and flowers. As the rest of our group - made up of officials from Kabul and Helmand and other donors - went inside the school, I held back and went over to talk to the little girl.
She wasn't shy and quickly told me she was called Farayba, she was six years old and she was a student at the school. A few moments later her older sisters, Lima, aged seven, and Soosan, aged ten, joined us. They were also pupils at the school. I asked them what they liked best about school. They answered, "Everything." I probed further, "What is your favourite subject?", "Oh we like every subject!" they said, and started giggling. It was as if I was asking a very silly question. Next their little brother, Mohammed, aged three, ran over. Finally, their mother joined us. She is a teacher at the school, teaching Pashto. After school she teaches literacy classes in the evenings, to women. I asked her if her pupils were eager to learn, "Oh yes, very much so. Education is our future. I was lucky, I finished Grade 12 and I want every girl to have the same chance," she replied. I thanked her for doing such important work and asked if I could take a photo of them all. She didn't want to be photographed, but the children were happy to pose.
I walked in late to the crowded headmistress's office. My colleagues were deep in conversation with the headmistress, Zeynab. Inside were about 20 of the more senior girls, all wearing brightly coloured shalwar kameez. Their hair was covered, but their faces were bright, they were not shy young women. I wanted to talk very much with the girls and Zeynab, so we arranged for the men in the party to leave to talk with the school 'shura', rather like our own parent-teacher associations. All the girls were open and eager to answer our questions. They all loved school. We asked what they wanted to do after school. Several girls wanted to be doctors, others to be teachers, and one wanted to be an engineer. We enquired if they faced any problems in coming to school. Not really, they answered - they felt safe here.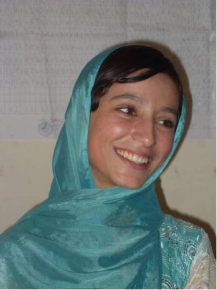 Zeynab interjected to say that that a few girls had been threatened, but that the real problem was that many of the girls came from poor families. However, the school shura was doing an excellent job, she said, in encouraging girls in the community to come to school. I asked the girls to put up their hands if their mothers had been to school. Not one single hand was raised. Zerena, in Grade 7, stood up to explain. "My mother grew up in the Taliban time so she could not go to school. It is the same with all of our mothers, but my mother and father so want me to get an education, they want me to have a great future and to help build my country. I will not let them down."
The other girls were nodding. Zerena spoke with confidence and passion. She was very articulate and as we asked more questions, she started to answer in English. Her confidence encouraged more of the girls to speak and voice their ideas. I couldn't help wondering if a group of teenage girls in the UK would have been so confident, articulate and friendly if a group of Afghan government officials had turned up at their school...
There are 1,900 girls at the school and the classrooms are already crowded. Zeynab said that they would have to put a tent up in the schoolyard next year to fit in all the new girls who want to come.
Lady Denman, a huge figure in the history of the women's rights movement, and a women's suffrage promoter, said that if you educate a man, you educate an individual. If you educate a woman, you educate a family. Studies have shown that girls who have only a few years' education will have fewer children, care for them better and contribute to the household economy. Ten years ago there were almost no girls at school under the Taliban; now, across the country, there are 2.1 million girls attending school in Afghanistan. In Helmand there are over 21,000 girls in school. But progress is difficult. Most of these girls are in the district capitals of Lashkar Gah and Gereshk. There are still many districts without any girls at school.
Afghanistan is a very conservative country and Helmand even more so. There is a common Afghan proverb: 'There is a path to the top of even the highest mountain'. Girls have traditionally faced huge mountains in their way when trying to get an education in Afghanistan. But even during the dark days of the Taliban, girls sneaked into illegal schools under veils of secrecy. It is still hard to find young women from the villages with sufficient education to train to be teachers, and security remains a barrier, too. Some parents may feel it is safe enough to send their sons to school, but not their daughters.
We spend a lot of time in development worrying whether our interventions are sustainable. No matter what the future brings for Afghanistan - and of course we are all hoping for a bright one - nothing will be able to take away the education these girls are receiving.
In the bright young faces of these girls and young women, and in their teachers' lives, I saw real inspiration. They, and the ever-growing millions like them across the country, are the pioneers of Afghanistan's future.