As a journalist I spend a lot of time reporting on the developing world. To be honest, many of my stories focus on problems and failures, so when I was approached to moderate an event about the Millennium Development Goals during the UN General Assembly, to showcase solutions and successes, I couldn't resist taking the project on.
On paper, 'MDG Countdown 2011, Successes and Innovations' was impressive. The event co-hosts,  DFID and USAID,  had come up with an engaging mix of strong speakers, positive case studies and celebrity guests, all packed into a dynamic 90-minute presentation. It looked good on paper… On the day, as the highlights video shows, it was even better and I got to present some good news for a change.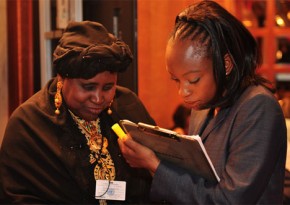 Before taking the stage, I got some last-minute inspiration for my presentation from the first female Vice President of Gambia, Dr Isatou Njie-Saidy. Gambia's success story at the event focused on progress in education. The country's Children's Act of 2005 established compulsory basic education as law and Gambia has seen impressive increases in the numbers of children enrolled for school - especially girls.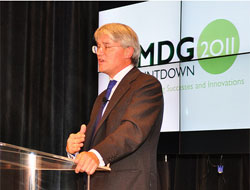 USAID Administrator, Dr Raj Shah and Secretary of State for International Development, Andrew Mitchell are a formidable double act. Their passion, energy and enthusiasm was the perfect way to kick off the event.
In swift succession, we heard from UN Women's Michelle Bachelet, Barbara Chilangwa, Zambia's Executive Director for the Campaign for Female Education, and Dr Ariela Maria De Los Milagros Luna Florez, who advises the Ministry of Health in Peru. Each had stories of success and innovation to share.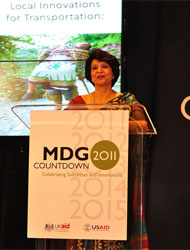 Dr Sudha Sharma, Nepal's Secretary of the Ministry of Health and Population, left the audience with some powerful statistics. She reminded them that, "sadly, during this one hour as we talk about our successes and challenges, five children will die in Nepal and by the end of the day, five mothers will also die." It was a reminder of the work still left to do on the way to achieving the Millennium Development Goals and Dr Sharma left the stage to a rousing round of applause.
After a brilliant line-up of female speakers, Dr Tweodros, the Minister of Health for Ethiopia, apologised for spoiling the run of women. He did keep with the female agenda though: he highlighted an innovative community health scheme that's working because of the trust patients have in female health workers. 
Archbishop Desmond Tutu and former President of Ireland Mary Robinson also spoke together at the event, in their capacity as members of The Elders - an independent group of global leaders, brought together by Nelson Mandela to work for peace and human rights. They discussed the MDGs and their new campaign to end child marriage. Listening to them was like sitting at the knee of wise sages with an endless supply of inspiring anecdotes.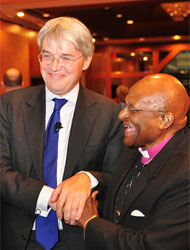 My unscientific way of measuring the success of an event is to watch how happy the audience looks at the end. Archbishop Tutu's megawatt smile was so infectious the entire room was grinning too. I'm not quite sure how DFID and USAID are going to top MDG Countdown 2011, but at least they have a whole year to work on it.