As the world gathers in Durban to continue discussions on how best to avoid the impacts of climate change, last Saturday, several UN organisations and others hosted the Agriculture and Rural Development Day. I gave a keynote presentation, sharing a platform with Rachel Kyte, Vice President of the World Bank, and Dr Mary Robinson, former President of Ireland and United Nations High Commissioner for Human Rights. The Secretary of State for Defra, Caroline Spelman MP, also took part in a High Level Panel. The event was focused on the complex link between food security, agriculture and climate change, and how we can best adapt to and mitigate against climate change, achieve food security and reduce poverty.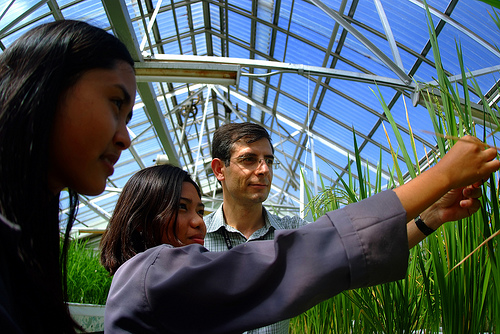 Agriculture directly provides livelihoods for millions of the poorest and most vulnerable people around the world. It provides food for rapidly growing populations; energy for cooking and for transport; raw materials for industry; and is a vital source of foreign exchange for many developing countries. The challenges of food insecurity, climate change, increased competition for energy, water, and land, and degradation of land and biodiversity  are connected in complex ways. Boosting productivity and production are essential if we are to meet the increase in the demand for food as the world population approaches the estimated nine billion mark in 2050, as projected by the recently published Government Office for Science Foresight report, The Future of Food and Farming.
Rising annual temperatures and changes in rainfall patterns will affect agriculture globally, reducing harvests for smallholder farmers. Extreme weather events - like the 2010 Pakistan floods and the current drought in the Horn of Africa - are likely to become more frequent. As we've seen over the past few years, these can have a devastating effect on the livelihoods of poor people who depend on farming.
As a global community we need to manage the world food system in a way that provides food security for everyone without damaging the environmental resources we all depend on. It's a task that will be made more challenging in a world increasingly affected by climate change. The impact will be most heavily felt in developing countries, without the resources to adapt to climate change. Without a global commitment to reducing greenhouse gas emissions from all sectors, including agriculture, no amount of agricultural adaptation will be sufficient under the destabilized climate of the future.
Developing "climate-smart" agriculture, which is more resilient and more productive, is the challenge we all face in the coming decades.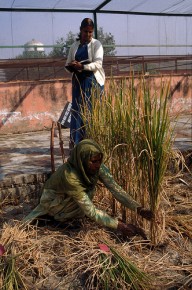 The task of the Commission on Sustainable Agriculture and Climate Change (of which I am Chair) has been to identify policy options and practical actions we can take to help make agriculture climate-smart, as set out in the "Achieving Food Security in the Face of Climate Change" report. Two key recommendations are to increase investment in research and development in agriculture and in food systems, and to integrate food security and sustainable agriculture fully into national and international policies. The waste and losses in the food system must be reduced – both good food thrown out in developed countries; and crops lost to insects or fungi attacks after harvest in developing countries. The amounts lost are staggeringly high: up to 30% globally.
Around the world there are many, many examples of best practice and success where resilience and productivity have increased, and resource inputs and greenhouse gas emissions have been reduced. Some projects supported by UK aid which demonstrate this include:
The development of a variety of rice which is tolerant to salt in the soil. This has helped large numbers of farmers in coastal areas of Bangladesh to grow crops on salty lands and ensure food supplies all year round;
The adoption of conservation farming techniques on nearly two million hectares of farming land in India to enable quick and easy sowing of wheat after rice crops. This technique removes the need to till the soil which allows more efficient and sustainable use of soil and water and contributes to increasing farmers' yearly incomes;
The production and distribution of localised weather bulletins, which help farmers to tailor their crop planting and management techniques to local climate conditions, thus improving harvests.
The report identifies many others. Getting greater international attention to address the complex links between climate change and agriculture is something I feel needs to be urgently addressed. And the importance of continuously searching for innovative solutions to help us do this can never be overstated.
----------------------------------------------------------------------------------
Please note, this is a guest blog. Views expressed here do not necessarily represent the views of DFID or have the support of the British Government.

More from DFID on climate change, its impact and how UK aid is helping millions of people to protect their livelihoods from the effects of climate change:
Forests, food and fuel: find out how UK aid is helping poor countries to adapt to the world's changing climate.
Dangerous climate change: listen to the DFID podcast from Kevin Anderson on the impacts of going beyond a 2-degree rise in temperature
The Climate Change Group blog: read posts from DFID staff who work in the area of climate change