After spending two nights in Butwal, we were taken to our allocated communities on the 1st January - quite literally a new start to the year.
In my community - Manpakadi - I was pleasantly surprised to find that many people can speak either broken or nearly fluent English. The community is fairly spread out, as me and my Nepali counterpart Shreedhar have eight small settlements, only containing around 20 houses outside of the main village.
The district it's in - Rupandehi - borders India and is incredibly flat. The only thing preventing me from seeing the horizon is pockets of trees and distant settlements.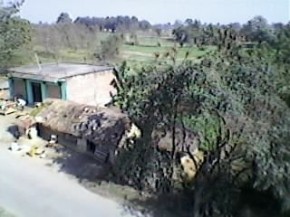 The area has an abundance of general stores, two barbers, a couple of pharmacies and an internet cafe. It only costs the equivalent of 25p per hour to use the internet, but there is only one computer which is incredibly slow and difficult to get access to due to random power-cuts. These can last for six hours or more. It has helped me realise how much we rely on electricity and take things like the internet for granted in the UK.
Walking around the communities I get a lot of stares - to the extent that I now start to wonder what is wrong if people aren't staring! Despite this, everybody is incredibly friendly and we've been to around ten houses in the last seven days for tea or warm buffalo milk and the occasional roti (bread similar to pancakes). We have had invitations to more, but we haven't reached these houses yet.
My host home and family are great, despite nobody apart from Shreedhar speaking English. I'm still enjoying the food, which is a pleasant surprise as it's pretty much exactly the same each meal time. We have dhal - lentil soup; bhaat – rice; takaari - curried veg and ochre; along with spices of some sort. We eat this twice a day; normally at around 10am and 6pm. The village itself usually wakes at 4am, leaving me tired and falling asleep by 8pm each evening.
We visited the local government school on our first full day in Manpakadi. All of the teachers and students are very friendly and happy to receive our support, which is a big relief as apparently some schools have refused volunteers before.
On the second day we went into school again and I received a welcome poster from a family of three sisters in the school. The poster has a coloured parrot and butterfly, with a message saying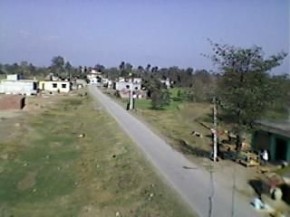 "Welcome to Nepal England country Matt". Around half of the teachers in the school can speak English and all students can speak a bit of broken English, as it is now part of their curriculum from an early age. We have visited the school every day from Tuesday to Friday and have started a good relationship between us, the students and the teachers. It will be something to build on over the coming weeks.