In the past few weeks I have learnt about and experienced a lot more Hindu culture. This started with being invited to the wedding (bebaha) of a relative of the host family. During the early afternoon I went to the groom's (dulacha's) house to view some of the wedding preparations.
It was very interesting to watch a goat's intestine being washed and cleaned, although would be fairly gruesome for anybody faint-hearted. Twenty minutes before this I tried a food called 'bordi'. When watching the intestines being used as a hose pipe and a bucket to hold most of the other internal organs being washed, I found out via Shreedhar that this was the preparation for bordi and in Nepal they literally use the whole goat.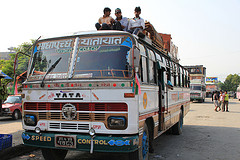 After a couple of hours I returned home and we awaited the arrival of the bride (dulahe). A public bus wasn't at all what I was expecting, and I shouldn't think it will ever be a desired wedding vehicle in England. The only person accompanying the bride was her auntie as her grandfather has died within the last year and Nepali culture prevents her parents from attending any celebrations – even their own daughter's wedding. It was an arranged marriage so it still had to go on regardless.
The wedding started at the temple at around 5:30 and we were on the ten-minute walk back to the house by 6:30. Shreedhar described it as a 'shortcut wedding' as there were only around 20 guests in total and it was very short. The celebrations finished with a small gathering of friends and family having a party at the groom's house. It was a good evening with singing and dancing; and the eating of the goat who I earlier saw in quite a lot of detail. I even got involved in the Nepali dancing and everybody thought it was incredibly funny. Those dancing lessons at 7:30 in the morning with Shreedhar obviously paid off.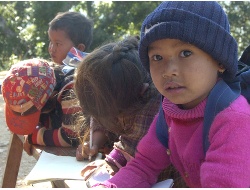 I've also experienced the Hindu celebration of the education god, Sarasarawati. The festival started at eight in the morning, when Shreedhar and I joined all of the kids in worshipping at the school. This involved the children standing in lines facing the 'worship area' (a small concrete stage) and a select few getting involved with chanting which was done into a sound system so all could hear.
That evening we attended a worship party held by one of the community members. As soon as we arrived, bowls made from banana leaves were thrust into our hands and filled with sel (bread), puri, haluwa, tarkari, ochre and rice pudding. This is known as 'Prasad', which is always eaten as worship food on religious days. Here there was also a lot of Nepali dancing and those who hadn't seen me dance at the wedding were incredibly keen to make me dance. Reassuringly, however, even the people who had seen me dance at the wedding were also keen.
Last week, the whole group from the UK met up in the nearby city of Butwal for mid-placement training. It was really good seeing everybody again as many I hadn't seen since the 30th December. The days were taken up with review sessions which compared which topics we have each covered with our communities' youth; what challenges we've faced; and what we consider our achievements to be.
In terms of progress within our community within the last couple of weeks we have done fairly well. We have conducted many sessions, including a workshop for practice/training teachers on non-formal education techniques. They thoroughly enjoyed it and have asked for us to deliver another, teaching them fun games to play, if we have time.
Time is still going incredibly quickly and it's only around one month until I arrive home. Scary.