As I've already mentioned in previous blog posts, community participation plays an important role in daily life here in Peru, but today was the first day that I really felt part of it.
We were invited to a celebration for Maria Elena Moyano. Whilst that name probably doesn't mean anything to most of the people reading this blog, in Villa El Salvador, she is as much of a celebrity as Madonna or The Beatles (and for some reason, they really seem to love The Beatles in Peru).
Maria Elena was one of Villa's most prominent leaders and was at the forefront of the women's organisation movement which created many of the 'comedores' or soup kitchens here. As both a woman and an Afro-Peruvian in a Peru where machismo was still prevalent, Maria Elena is seen as a role model for the masses. Her amazing work was sadly and brutally cut short during Peru's era of terror, when she was assassinated by the Maoist rebel group The Shining Path for her determination to continue working for the community and her refusal to succumb to fear.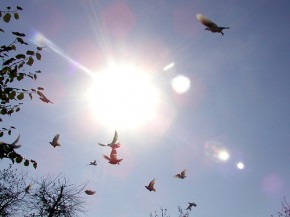 It was the anniversary of that day, exactly 20 years ago, that we attended today. Twenty years is my entire life, and I had been initially doubtful as to whether something so far in the past would still resonate with the community. I quickly found out how wrong I was. As we approached the ceremony, the thing which most struck me was not only the number of people who were there, but also the variety of ages and backgrounds. The mayor presided over the ceremony, which included: speeches; placing a wreath on a statue commemorating Maria Elena; awarding members of the community for their achievements; and, what I found to be most poignant, releasing doves into the sky as a symbol of peace, which Peruvians have fought so hard to maintain against terrorist threats.
This was followed by a chant, begun by members of the women's organisation Maria Elena herself set up, consisting of the words: "Los peruanos quieren paz, terrorismo nunca más" which translates to: "Peruvians want peace, no more terrorism". Since the leader of what remains of the Shining Path movement was captured only a few days ago, these words were particularly heartfelt.
However, as I stood there, part of the crowd and part of something much greater than just myself, the words which really struck me were these:
"You are Villa El Salvador. We are all Villa El Salvador. And Villa El Salvador will keep on progressing".