As those of you who follow my blog regularly will know, I've been working over the past year or so on a programme which delivers vital services to rural areas across Afghanistan.
Many of these areas are just recovering from conflict. This makes it all the more important to get services running as quickly as possible, so people living there can see that the Afghan government can deliver the things they need.
I can't say it's been easy running this programme - however, as I look over my time here, I can say I've seen some real progress over the last six months.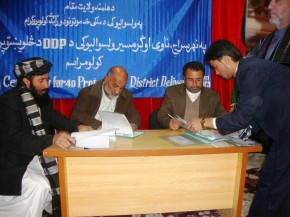 A recent highlight was last month, when Helmand Provincial Governor Mohammad Gulab Mangal came together with district governors, members of district community councils and the head of the UK-led Provincial Reconstruction Team (PRT) in Helmand for the signing of contracts for 40 new development projects.
People often ask me why it's so important that we are helping the Afghan government roll out these basic services with such urgency. As international combat troops will withdraw from Afghanistan by the end of 2014, local communities need to feel that the government based in Kabul understands what they need at the local level. Otherwise, if they don't feel it is listening to them, there is a risk they might turn to the Taliban instead.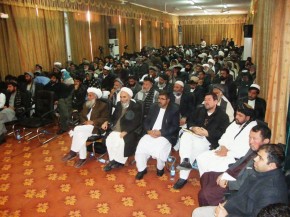 What I've found really heartening is to see my Afghan colleagues who work in these communities really taking the lead and pushing for this programme to be rolled out across their country. It's the determined efforts of these men and women, and many others like them, who will be leading development efforts in the years to come. From what I've seen, they are more than up for the challenge.
These latest projects will be implemented in Nahre-Siraj, Nawa and Garmsir districts and have been selected by the local communities as priorities. The projects will be funded by the UK and Denmark through the District Delivery Programme (DDP). They will support several areas, including health, education, agriculture, irrigation and justice. Governor Mangal has strongly encouraged local communities to get involved in the supervision of these projects, and to flag any problems which need sorting out along the way.
I know it is really early days, but it's this sort of long-term commitment which will make the difference to Afghanistan in the coming months and years ahead. As I look back over more than a year of working on this programme, I can honestly say I feel hopeful about what it can deliver up until 2014 and beyond.
Sadly my time in Afghanistan is almost over, and my next blog will be my last one. Look out for it coming soon.