I'm not going to lie, fellow ICS bloggers, I've been getting a tiny bit jealous reading about all the different cultural experiences you have been exposed to - Villa El Salvador is so different to the UK in many ways but, essentially, it is a growing urban settlement where day-to-day life is not always so different from life in the UK and we have so far been unable to explore much of Peru's famed diversity.
So, what have we done that can compare to ceremonies in Nepal and Africa? The answer hit me, quite literally, in the form of a water balloon to the back!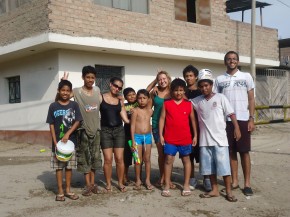 Throughout February in Villa, the residents celebrated "Carnaval" - a water festival originating in the rural communities that many of Villa El Salvador's inhabitants come from.
When they left their homes in the mountains and countryside in search of the opportunities and economic improvement that living in Villa could bring, they also brought with them the tradition of celebrating a festival of water, which, in those areas, is far more abundant than here in the desert.
Despite being warned about Carnaval, I was still pretty shocked the first day I was walking to work at my placement school and got attacked by a group of small children with some well-aimed water balloons without anything to get them back with! My fear was only added to when, running away from the water attack, we ran straight into a group of barking dogs. This being a developing country where rabies is a possible threat (and me being someone who is quite easily scared) has made me fear every dog I come across as probably rabid and probably going to kill me. Having said that, the worst I've actually encountered so far is some heated barking.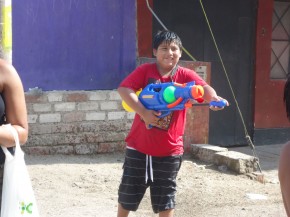 Anyway, back to the festival. A water festival in a desert may seem wasteful, but this opinion doesn't take into account the progress that has been achieved over recent years. We have been told by the community here that, as more awareness has been raised about the importance of protecting water, the water fights have been cut down from taking place every day to just Sundays and to now only involve children instead of the adults as well.
A few members of our team decided to break with this unwritten 'rule' just for one Sunday, to channel their inner child and join with the children from their placement at MANTHOC - an organisation for worker children - in a spot of water fighting.
In addition to Carnaval, we were also treated to an amazing cultural experience, and a classic example of Peruvian timekeeping, in the form of a street parade in celebration of "la vírgen de la candelaría" - a Catholic tradition which has its roots in the Peruvian district of Puno.
Although advertised as starting at 4pm, the celebration only kicked off at 6:30pm (something which all the locals mysteriously seemed to know). However, it was definitely worth the wait as we witnessed performances of many different traditional dances from Puno, all in traditional dress with bright colours, bells and a lot of gold-coloured accessories.
As I spend more and more time here, I am starting to understand that to culturally experience a place isn't always about all these celebrations we have attended (though they definitely make an impressive impact), it's also about the day-to-day interaction we are having with people here and learning more about their lives and culture on a much deeper level.