Earlier this month, the UN Secretary General announced that two billion people have gained access to safe drinking water in the last 20 years, and that the Millennium Development Goal target on water had been achieved five years early. The Secretary of State for International Development, Andrew Mitchell, described this achievement as "concrete proof that well spent aid can make a real difference to the lives of some of the very poorest". I couldn't agree with him more.
However, despite this success, 783 million people continue to live without clean drinking water. To put that figure into context, that's around one and a half times the population of the 27 countries within the European Union. But despite the scale of the challenge, getting water to every person on the planet is within our grasp and with the right political will and investment this could become a reality.
Living without safe water and sanitation often means an existence in chronic poverty. Life without these basic services is a burden carried literally by women and girls. What's more, contaminated water and poor sanitation kill more children in Africa than AIDS, malaria and measles combined, and together are the second biggest killer of children worldwide. There is much more the international community can do to tackle this crisis.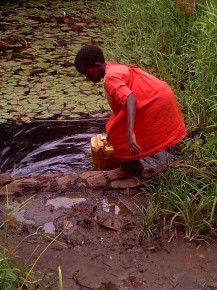 The wider impacts of lack of safe water to drink and sanitation are huge. Illness and the time spent walking miles to collect water keep children out of school, and prevent many women from earning a living. Girls drop out of school at puberty if there are no toilets available. Around half the hospital beds in developing countries are filled with people suffering from diseases associated with poor water, sanitation and hygiene. Money spent treating water-borne preventable diseases is holding back development.
The problem of safe sanitation is even greater than that of safe drinking water. 2.5 billion – over a third of the world's population – lack access to this vital amenity. It is one of the most off-track of all the Millennium Development Goals (MDGs).
One risk of meeting the MDG on water so early could be that the international community's priorities turn elsewhere. This is why Andrew Mitchell and the UK Government signalling that "providing clean, safe water and sanitation remains a top priority" is so important. Particularly as of the 11% of the world's people still living without safe water to drink, 40% of them are in Sub Saharan Africa.
Despite water and sanitation's importance as the foundation of development and the wider success of the MDGs, there is a huge shortfall in funding to tackle this crisis. In fact, it is declining in priority. Global aid has risen to US$128.7 billion per year, but the share of global aid invested in water and sanitation has steadily fallen. It was over 8% of total aid in the mid-1990s, but by 2009 had fallen to below 5.5%.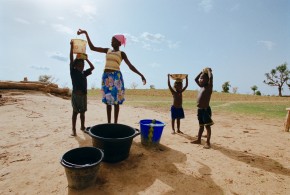 The UK Government understands this, and has led the international community to challenge the status-quo. Last November, Andrew Mitchell was the first minister from a donor country to confirm his attendance at the Sanitation and Water for All meeting in Washington next month. He did so at a time when generating momentum around this meeting was critical.
DFID has also recently evaluated and assessed its existing water, sanitation and hygiene work, and published the findings today in the DFID Water, Sanitation and Hygiene Portfolio Review. DFID has much to be praised for, not least because this review has been conducted and published in the first place - demonstrating a degree of transparency that others within the donor community should take note of. They should also be praised that their work is being targeted to the poorest communities. Crucially, the Review finds that this investment represents good value for money for the British taxpayer.
The Review also points out that whilst DFID spend on water, sanitation and hygiene education has increased, in 2009 spending in this area accounted for less than 2% of UK aid. We very much hope that the Secretary of State will use the opportunity of the Sanitation and Water for All High Level Meeting in Washington DC in April to increase investment in water and sanitation and lead the international community on dealing with the crisis.
Investing in water and sanitation, as well as representing good value for money for UK taxpayers, is also a great investment in the economies of developing countries. According to the UN, for every $1 invested in water and sanitation, an average of $8 is returned in economic productivity. Just as improved sanitation was critical to the UK's economic development - the Great Stink of 1858 led to investment in a cleaner, healthier and more productive London - so it can be true for developing countries.
Secretary of State Andrew Mitchell, with this compelling review of evidence supporting investment in water and sanitation, is better placed than any of his predecessors to significantly shift the UK approach to bring even more taps and toilets to the world's poorest people, and help them gain a strong foothold out of poverty.
----------------------------------------------------------------------
Please note, this is a guest blog. Views expressed here do not necessarily represent the views of DFID or have the support of the British Government.

UK aid is changing lives - find out how on our Facebook page.
Read our World Water Day feature and watch a video message from Secretary of State Andrew Mitchell.