My plane touched down in the UK at around 5.30 on the 5th March and I happily ate my first steak and chips in three months three hours later in a pub. The excitement of being home prevented me from sleeping that night, excluding two hours in the car on the six-hour journey back to Cornwall.
I have very quickly settled back into life: within a week of being home it hardly felt like I had been away at all. Only the amazing memories of the people and places visited reminded me of my time in Nepal.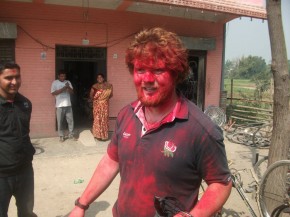 In the last few weeks of my placement things were fairly hectic. Shreedhar and I were busy every day running either workshops or information sessions for various groups in the community, such as the local 'Aama Samuha' (Mothers' Group) and 'Kisori Samuha' (Teenage Girls' Group), or working within the school teaching about HIV and AIDS.
We managed to tie off as many loose ends as possible before we left and ensured that people in the community could contact either Shreedhar or myself in future, partly to keep in contact with them and also to offer further help over the internet if needed.
Since returning to the UK I have kept myself busy with presentations about my experiences and have a few more set for the future – all part of the ICS commitment to UK Action when we return home. Last Saturday I arranged a meal with the help of my family and friends to raise money for Restless Development and another Nepal-based charity. This was really successful and raised over £1000 to be split between the charities. At the meal I gave a photo presentation and talked about my experiences and received amazing feedback from all who attended. I have also agreed to pop into a few schools to give an assembly; and to do something with my old school.
I have just submitted an article to my local village newsletter and also have a radio interview in the coming weeks. Before I left, an article about me travelling to Nepal with ICS was featured in local, and the odd regional, newspapers so there is potential for a follow-up here. These will all raise awareness about what I have been doing and hopefully inspire others to also take amazing opportunities like this if offered to them.
Confidence is one noticeable improvement I can see in myself. Before the trip I would never have had the confidence to talk as I did without nerves to a room full of nearly 70 people. My experience in Nepal has taught me just as much, if not more as it did the children I was working with in Manpakadi. This includes all things from the skills I was teaching them, to the confidence already mentioned and also how to overcome cultural or language differences.
Apart from having to hand-wash my clothes, the language barrier was the biggest problem I encountered. This became more real to me than other volunteers, as during the second week of placement I accidentally agreed to marry a teacher from the local private school. Awkward. I still don't quite understand the situation, but the incident was quickly resolved with Shreedhar stepping in and a short exchange of Nepali between the pair. It ended with the teacher saying that she was apparently only joking. I'm still not entirely sure whether she was or not - and a very small part of me could see her with bags packed, ready to leave with me when the bus came.
As for my future, 'maalai tar chaina' – meaning 'I don't know' in Nepali. I will continue working on the family farm for the time being, until either another opportunity presents itself or I finally decide which path I would like to take regarding a career. I can say for sure however that ICS has been a life-changing experience for me and I can honestly say I have never once regretted my decision to apply.