This Sunday, 1 April 2012, our tiny, Kenyan, DFID-funded media project is going to be on the red carpet in Cannes, France. The reason:  Shujaaz has been nominated for the children and young people's category of the International Digital Emmy® Awards.
Let me give you the inside track on our project: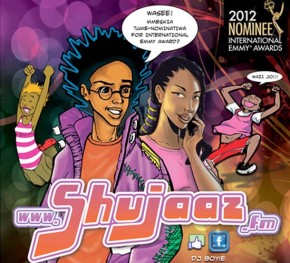 Shujaaz means 'hero' in Sheng - the language of the Kenyan streets - and our hero is Boyie, who's 19. He completed his studies at secondary school last year – but, like his friends, he hasn't been able to find job or a place at college.
His friends have joined a "self-help group" but this has quickly become the local gang, intimidating the neighbourhood for "security money".
Boyie won't join because he has a secret. He's built a pirate FM radio station in his bedroom. Now, every day, Boyie - or DJ B as he's known on air - hacks into radio stations around Kenya with his daily show Shujaaz FM - "Heroes FM" – a call-out to Kenyan youth to step up and make their lives better. Shujaaz's other main characters are the kids around Kenya who listen to DJ B's daily show.
When we started on the idea of Shujaaz two years ago, everyone we spoke to told us their concerns about underemployed Kenyan youths. Half of Kenya's population is under 18 and two-thirds are under 30.
But although everyone was worried, as we kept asking questions, we kept coming across interesting opportunities that young people were using to improve their lives. Brilliant new ideas for better agriculture, bigger harvests, new markets, small enterprises, job creation, ways to hold government to account and demand services peacefully and effectively. It seemed to us lots of solutions were available to common problems, but young people just didn't seem to know about them.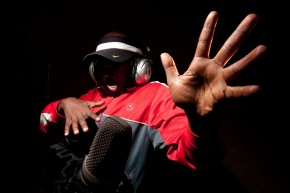 Finally we started looking for media that was talking intelligently to Kenya's youth, engaging them in productive, inspiring conversations. But apart from pop-music radio, there seemed to be gap when it came to positive, youth-focused media. And that's when we realized there was really a need - and an opportunity - for us to act.
Shujaaz's multiple simultaneous media now reach and engage a monthly audience of five million young Kenyans aged 10-30 in conversations about big ideas that can transform their lives. We create powerful exciting stories, set in the real world of modern Kenyan youth and told in the languages they speak, to build a stream of media that is quite literally pulled from our hands by eager young people.
We talk about the real struggles of the slums and the villages - to validate ordinary Kenyan life in the media which is otherwise often full of western imports. We don't romanticise and we don't patronise. Instead we have created a multi-media channel that looks and feels like the real world to young people who have never seen people like themselves in the media before. And we're doing it at scale:
12,500,000 copies of the monthly comic book have been published and distributed free since 2010 – five million distributed inside the Nation newspapers and the rest picked up from Mpesa kiosks and youth clubs in villages, urban slums and peri-urban areas
7,176 daily radio broadcasts have aired on over 20 Kenyan radio stations
750,000 Facebook page-views and conversations about Shujaaz stories
tens of thousands of SMS exchanges between the audience and the Shujaaz characters
animated Shujaaz videos now uploaded weekly on YouTube
a web archive of all the Shujaaz stories online
Through free distribution, on multiple platforms, at huge scale, Shujaaz is becoming a reliable friend to a generation of young people for whom accessing education, information and moral systems can be a real challenge. By partnering-up with experts and researchers, scientists and innovators, we make sure Shujaaz delivers proven practical ideas that can really make a difference to our audience. In this way, Shujaaz is working constantly to nudge a vast and vital community towards new ways of working, thinking and acting.
But do the Shujaaz stories deliver real change to the audience?
In a recent independent Kenya-wide survey of 17 year olds, 62% said they follow Shujaaz every month. Together with other data, that gives us a regular audience of well over five million; 36% of whom report that they have taken action based on stories in Shujaaz. And 32% say they have talked to other people about the comic and about the stories they've encountered – widening the reach and deepening the effect of the ideas shared.
At the same time, thousands of young people are writing to DJ B each month saying, "I've tried Shujaaz ideas - like planting kale in a sack"; "I've started a business and I'm supporting my family"; "I'm getting involved with the local government"; "I'm saving up my money"; "I'm in a healthy relationship!". They are suddenly aware of how to transform their lives and livelihoods, hold government to account, and put a stop to tribalism or hatred - and they're doing something about it.
So as long as people are snatching Shujaaz comics from our hands, rushing to their radios, we're going to find a way to print and broadcast them, and make sure they are packed full of wisdom and practical advice.
Thanks to DFID for their financial support through Research Into Use. And to the ministers, especially the Rt Hon Alan Duncan MP, for taking such a keen interest in our development.
If we come back from Cannes with an Emmy, that will be an amazing result. In fact, just being nominated for such a top global award - the first ever nomination from Kenya - was beyond our dreams until just now. So who knows where we will be in another two years' time?!
---
Please note, this is a guest blog. Views expressed here do not necessarily represent the views of DFID or have the support of the British Government.

UK aid is changing lives - find out how and get involved on our Facebook page.
Comic book heroes help young Kenyans: read more about the award-winning Shujaaz project in our web feature.
Follow Shujaaz.fm on Twitter and listen to our podcast of Boyie talking about being nominated for an Emmy and getting an unexpected phone call from International Development Minister Alan Duncan.