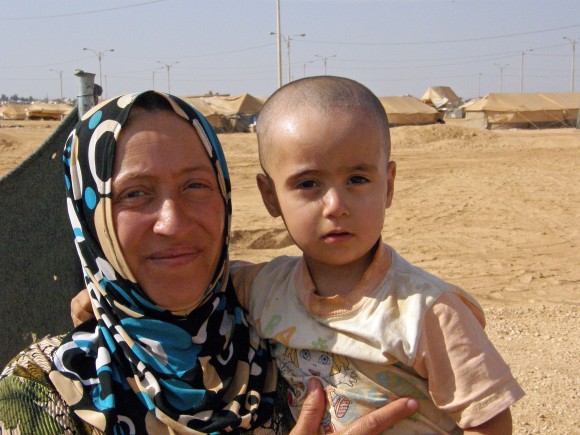 The conflict in Syria shows no sign of abating, yet media interest is waning. The humanitarian needs of the children affected are hardly mentioned and it is hard to understand why.
Within Syria alone, 2.5 million people are affected, 1.2 million of them have been forced to flee their homes, and half of them are children. For more than 18 months, these children and their families have endured terrible suffering and psychological distress, with limited access to food, water, health care and education.
I have just returned from a visit to Jordan, where there are now some 220,000 Syrian refugees who have fled from the violence. At Za'atari refugee camp near the Syrian border, more than 400 people are arriving every night, and half of them are children. An increasing number are arriving wounded or injured, and the night before our visit, 10 children had arrived unaccompanied.
Thanks to our supporters, including the UK Government, UNICEF has so far been able to address some of the most urgent needs of refugees in the camp, by providing a million litres of water every day, installing toilets and showers, vaccinating children against measles and polio, and setting up safe tented spaces where children can play and talk to counsellors to try to deal with the emotional turmoil that gives many of them nightmares.
UNICEF has also recently opened a school in the camp which can accommodate 2,200 children in shifts, and we are working to increase capacity to 5,000. The children we met there were happy to be safe and to be at school, but told us disturbing stories about how they had left Syria having seen their homes destroyed, and in most cases, having lost family members. They fled with only the summer clothes they were wearing and walked for many hours to the border during the night to avoid military attention. Some said they had been shot at as they fled, and had seen people killed or injured on the road.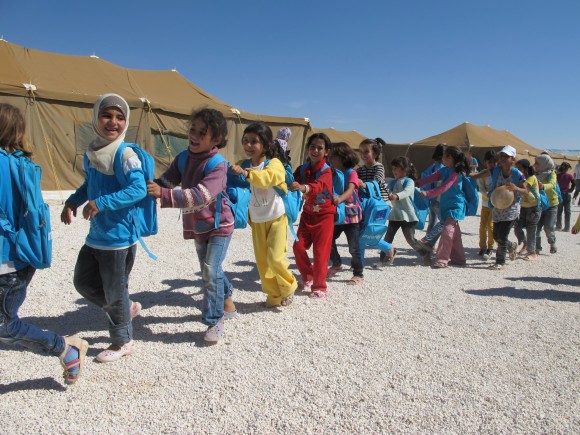 The camp is in a desert area – there is just sand and dust everywhere – and a lot of children have coughs and respiratory infections. It is a bleak place to live now, but it is going to get far worse because winter is coming. When we spoke to community leaders and to individual families, winter was their biggest worry. Night time temperatures are already down to around 10 degrees Celsius and by December will be freezing, with rain and possibly snow. Our main priority now is to "winterise" the camp. We need to provide hot water for showers, heaters for the school, and roofs for the toilet and shower blocks. The children will need winter clothes, shoes and blankets urgently.
My visit left me incredibly impressed by the energy and courage of our UNICEF teams, not just in Jordan, but also in Lebanon, Iraq, Turkey and of course within Syria itself. But at the moment a lack of funds is inhibiting what can be achieved. Across the region, we have only received just over a quarter of the funds we need – and that is just for 2012. As one of my colleagues put it, "winter doesn't end on 31st December", so we will need even more funds to continue helping these children next year as well. Of course, our greatest hope is that the conflict in Syria will end as soon as possible and that it will be safe for people to return to their homes. But until then, I am determined to do all I can to support our dedicated teams and their efforts for children whose needs are immense and who have suffered in ways that no child should.
For more information about UNICEF's response to the Syria crisis, or to make a donation, please visit www.unicef.org.uk/syria
To find out more about how the UK is helping to meet humanitarian needs within Syria and in neighbouring countries, please visit www.dfid.gov.uk/syria