It's a bit unnerving to be decanted from a helicopter into the middle of a field, surrounded by towering hills in the far reaches of North Kivu on the edge of an area active with Mayi-Mayi fighters. But there we were - seven representatives of various development and United Nations agencies, watching the Lithuanian-crewed helicopter disappearing into the mist. We had been to visit a goods and food fair organised by the very orange Norwegian Refugee Council in the village of Kitsombiro high in the North Kivu hills to check aid was reaching those who need it most.

The fair provided an opportunity:
For people displaced by the fighting to purchase some food and a few household items to help them get back on their feet.
To support the families that had taken them in, and to sustain them until it was safe to return to their homes and fields.
The fair also stimulates local economic activity as local traders provide the goods.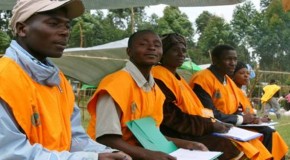 Each family was given a sheet of dollar tokens that they spend at the various stalls. Corrugated sheeting for roofs was a popular purchase, as were mattresses and aluminium cooking pots. Some women were negotiating prices for brightly coloured fabric and imported jeans. My effort to help an old lady tie her bundle of goods together ready to be head-carried home was met with polite acquiescence. She was kind enough to let me walk away before she undid it and re-tied it herself. At the exit to the fair, dressed in orange bibs, were a team of evaluators. Their role was to ask one in ten of the shoppers about their experience and what other commodities they would like to see on offer. In the food fair, huge sacks of maize, wheat flour, rice, and beans were being weighed, traded, and then transported by boys on their chukudus. The chukudu is both work of art and appropriate technology. A wooden scooter with cow-horn handle bars capable of carrying up to 400kgs – perfectly adapted to the terrain and used to haul the most preposterous loads.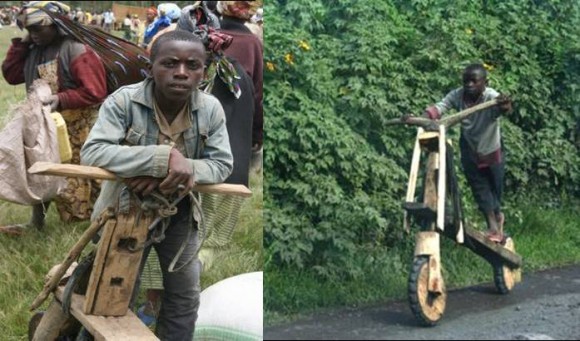 Maintaining the orange theme, huge vats of palm oil, a highly calorific staple of Congolese cuisine, were being boiled up. Next to the oil, dried fish was being sorted and sold. Because of the altitude, and the soft ground into which our helicopter had sunk, the team had to be taken out in two batches. So there we were, standing in the field, waiting, and hoping for the return of the helicopter. Nothing else to do but get out the BlackBerry and clear a few emails. It may not be Orange, but Vodacom's signal is strong – even in this remote part of the Congo.