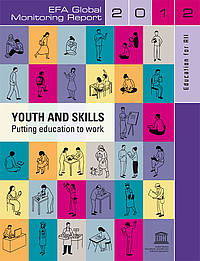 I attended the local launch of the UNESCO Education for All (EFA) Global Monitoring Report (GMR) 2012 on a sultry Friday morning at Tanzania's National Museum. This year the thematic focus was on 'Youth and Skills: Putting Education to Work'. It included a well crafted discourse on the importance of giving all young people access to skills, which led to a lively debate.
Foundational skills are needed by youth who have missed out on basic education or attended schooling of such low quality - a sad but common phenomena in Africa that many cannot effectively read, learn or calculate. Most also need to strengthen their transferable skills, such as more generic abilities to problem solve, teamwork, communicate and so forth. Finally, technical and vocational skills assist in direct preparation for jobs both formal and informal - the majority of young Africans do not have the luxury of salaried jobs or welfare assistance of any sort.
The report makes an argument for certain western countries to redirect 'recycled' aid provided as tertiary scholarships (for developing country students to come and study aboard) and use this instead for building skills capacity within countries. An example cited reported that for the cost of a single scholarship to Japan, 229 young people could have accessed secondary education in Nepal.
Over the last decade the Department for International Development's (DFID) support in education, and that of many donors, has largely been targeted towards the drive for universal access to basic education, to some extent at the expense of other EFA goals such as youth learning and combating adult illiteracy. The somewhat crude, but still sensible, counter argument goes that educating kids properly in the first place is the most efficient way to get the foundational and to some extent transferable skills in place early. In Zimbabwe (where I worked until recently) the school system collapsed in 2007, but adult literacy was still well over 90% and skilled Zimbabweans educated in the 1980-90s remain in demand all over the world.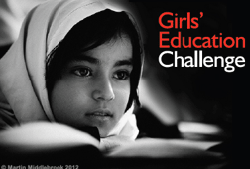 The Global Campaign for Education (GCE) recently released a critique of DFID's operational plans Equity and inclusion for all in education and as The Guardian's Global Development reported, called for 'a clear strategy to ensure equity and the inclusion of all marginalised groups across all the countries in which it (DFID) works'. GCE notes the work DFID is doing on gender inequities in education - the Girls Education Challenge Fund is about to launch major initiatives in ten countries - but urges for more coherent support for marginalised groups, in particular the disabled.
I would personally comment that GCE's perspective, while there is more to do and the report is helpful in reminding us of the inequities that prevail, it is perhaps unrealistic in what it expects DFID may achieve. Enrolment rates (if you can measure them - a big if) for disabled kids, disadvantaged ethnic minorities, religious groups, nomads and urban street kids are usually far below that of mainstream, able bodied children in many societies and no amount of support and policy work is able to easily impact this hard reality. This somewhat harsh reality is clearly articulated in the Global Monitoring Report 2010: Reaching the Marginalised. DFID's operational plans outline support proposals for some of the poorest countries on earth, but are not blueprints to run those countries; funding available from donors and countries own budgets is limited and hard to deploy effectively, even on more easily identifiable objectives.
Programmes and innovate pilots also get DFID support and permeate out to demonstrate better practice and challenge stigma, usually without UK branding. When I lived in Kano, Northern Nigeria, it was impossible to ignore the plight of the Almajiri - street boys who live away from homes with spiritual leaders (mallams), reciting the Quran and begging for food. The Education Sector Support Programme in Nigeria (ESSPIN) introduced simple secular study and feeding for some of these deprived boys, which promotes tolerance in a region now riven by an extremist insurgency.
Being disabled myself I take a lot of interest in inclusive education in developing countries - the reality is disturbing. Inclusive education policies are not too difficult to develop from a template based upon those of western countries where resources are measured in the thousands of US$'s per child and society is generally supportive. But talk to the parent of a hearing impaired child and they may tell you the last place on earth they want their child enrolled is in a mainstream government school where neglect and perhaps bullying are the only lessons on offer. Special needs schools and general inclusive awareness for all teachers are part of the answer, but in rural Africa the support needed for meaningful learning is not actually present for many 'regular kids'.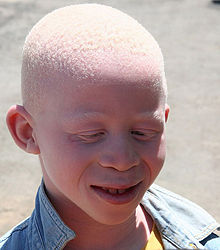 I supported research into inclusive education needs in Vietnam a few years ago and was told, in a remote ethnic minority village, that no child in a school of around 500 students used or needed glasses. The 'spectrum' learning difficulties that are trending in the West are certainly not on the agenda in areas such as rural Tanzania where belief in evil spirits and witchcraft lead to albino children being excluded and even killed for ritual purposes. Talking recently to the head of Tanzania's education statistical unit, he agreed that his data was unreliable and that whilst disabled kids were reported as making up only 0.3% (28,000 of 8.2 million) of the 2012 primary enrolment,  it wasn't possible to estimate the disabled population out of school or to target them in such a vast country.
Aspiring to reach all children, however disadvantaged or marginalised is of course worthy, but at times the 'inconvenient truth' of how societies are, and how they evolve, means that change will come slowly and in patterns not predictable by development actors.