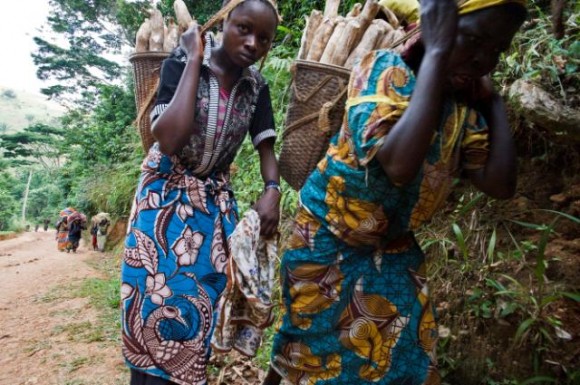 Given current events in eastern DRC it seems strange to be writing about anything else. M23's capture of Goma and ongoing push to the South has been widely covered in the international press (Reuters' coverage has been particularly good). I left Bukavu on Wednesday, after M23 announced it was their next target and students protested against the failure of government and of the UN to protect the regional capital. It's incredibly sad to leave at such a critical time – I hope to get back as soon as possible – but good to be back in Kinshasa where we are planning how best to respond to needs generated by the latest wave of fighting. There's not much I can add for now, but as the dust starts to settle, the humanitarian picture becomes clearer and the UK response gets under way, I'll give you a full update.
Today is the International Day for the Elimination of Violence against Women, and with that in mind I wanted to share some reflections I put down on paper a few weeks ago, when eastern DRC was quieter, but when the everyday cost of conflict for people was perhaps no less than it is today.
This week has been rare – under normal circumstances DRC doesn't only miss the front page, it's barely covered at all. Sadly, if people know only one thing about DRC, it's likely to be the shocking statistic that a woman is raped here every minute. Widespread sexual violence, and the crippling social stigma and rejection which can so often result from it, are a common feature of the few stories which get told about this place.
When I arrived in Kinshasa I have to admit that my assessment was that this was an overcrowded space – everyone was throwing money at the problem and the focus on women as victims detracted from more important efforts to support women's economic empowerment, change laws which hold women back, and promote women's participation in political and community leadership. I still believe that money is only half of the answer, and that addressing root causes of rape is an important and neglected part of the story. It's also important that rape isn't given some kind of special status – appalling violence and human rights abuses of all kinds are committed against civilians throughout eastern Congo every day. But encounters I've had since arriving here have reminded me about the scale and impact of the problem of sexual violence in conflict here, and of the need to do more and to do better by the women (and men) it affects.
A few weeks ago I was in a small village in rural South Kivu. I knew it was on the periphery of a region that had recently seen some violence, and that the area hosts tens of thousands of displaced people from neighbouring conflict zones, but after a day visiting extremely poor but seemingly peaceful villages and talking about survival strategies for getting from one harvest to the next I'd been lulled into feeling that we were in some Congolese version of The Shire – rolling hills and quiet, if stretched, lives.
On the final evening I was sitting outside our guesthouse writing up some notes from the day. Three middle-aged women came and sat quietly beside me. We exchanged greetings and I got on with writing. Then one woman started explaining something to me in Swahili. I told her I didn't understand, but she kept trying, quietly and calmly. Eventually one of the women left, and came back with a girl she'd found on the road who spoke some French. Through her they explained that they'd just arrived here. FDLR – a major armed group - had attacked their village, burnt their houses and killed their husbands, at least one of whom had been burnt alive. The most talkative of the three pulled her skirt to one side and showed me the horrific burns all over her legs. The women had been raped. The woman with the burns explained that she had been tied to the ground with her arms outstretched, and raped multiple times by multiple people. They'd received no help, they said. They'd just had to quickly gather what they could and walk more than 30km, up and down vertical hills, to settle with distant relatives. When had this happened? Saturday – five days previously.
In any other country this one event would make headline news for weeks, but this is such an everyday occurrence here that these women not only didn't make headlines but didn't get help. They just packed up, walked tens of kilometres up and down steep hills, and quietly settled with relatives and tried to make do.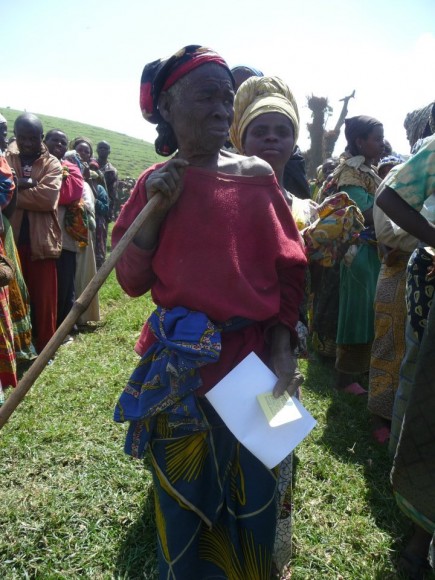 When I got back to town I visited Panzi hospital, which contains a sexual violence unit (built by DFID in 2002) which is the reference for the whole of South Kivu. The director of the hospital, Dr Denis Mukwege, was attacked in his home a few weeks after I met him – an incident which provoked international outcry. Tall, gentle and clearly loved by his staff and patients, Mukwege has been awarded several international human rights awards for his work here. The hospital sees around 3,000 gynaecology patients per year – roughly half of whom are victims of sexual violence. The worsening conflict in 2012, said Mukwege, has led to a sharp rise in incidents of sexual violence in the province. The deterioration in the security situation, however, has meant that fewer people are able to travel and access assistance. Local health workers call the hospital from Fizi, Baraka and Kabare to say they've received women suffering terrible complications from rape, but cannot transport them to Bukavu for treatment because the routes are too dangerous.
Mukwege says you see things in this job that keep you awake at night. He remembers one young woman who came to the hospital from Shabunda territory. She'd been raped and was heavily pregnant. Thankfully she gave birth safely, and tests revealed she'd not contracted any diseases. She begged not to be sent back to her village, but the hospital was unable to accommodate her after the birth, and she was told she had to return home. A few months later she was transported back in the hospital. When she had returned to the village she'd been raped again. This time she had not been so lucky, and tests revealed that she'd contracted HIV. Once again the hospital had no choice but to send her back to her village after treatment, and Dr Mukwege says he worries about her every day.
The problem of sexual violence in DRC is not going away. UK humanitarian support provides more than 2,000 victims of sexual violence with emergency medical care, basic psychological support and help rebuilding their livelihoods each year. Ending conflict in the Kivus and stepping up civilian protection efforts is clearly vitally important here, as is supporting rapid response mechanisms that get victims the help they need when they need it. But, as a wise friend here pointed out to me, it's about more than this. DFID DRC is putting an increased emphasis on tackling the legal, social and economic barriers to women's empowerment in DRC. We need to move beyond a focus on women as victims here to one of women as active agents of change.
Right, back to focussing on current events. I'll check in next week to let you know what we're doing to help those affected by the current wave of fighting. Until then, please keep DRC in your thoughts.