At University, as an Economics and International Development student, I remember one of the lectures we had on Corporate Social Responsibility (CSR). We covered some of the successes of CSR and some of the infamous failures of businesses trying to engage in international development. As a critically minded student, the failures naturally stuck in my mind more and I remember thinking about the unsuccessful programmes for weeks afterward. These were companies who had set up schools without teachers, hospitals with completely untrained doctors and sold discounted fertilisers to local communities that actually didn't fertilise crops at all. After this my thoughts on business and international development were very simple: businesses should stay out and leave it to the experts.
After my MA I took a job as Programme Manager for Enactus UK (formerly SIFE), an organisation funded by corporate sponsors, many of which contributed under their CSR remit. Enactus trains university students to set up projects locally and abroad to empower people in need using enterprise as a tool. Many of these projects create social enterprises or set up small scale local entrepreneurs in the developing world. I didn't have a problem with this sort of CSR: the giving of money to enable others to run projects. Logically, business has great potential to do good through sponsorship.
Enactus is an incredible organisation with inspiring projects and the programme wouldn't exist without its corporate sponsorship. I applaud the companies who sponsor Enactus, but I think businesses could go one step further.
In my eyes sponsorship from a business's perspective, never really seemed to maximise impact. For businesses, there is a bottom line. Some people's, slightly pessimistic, view on CSR is that a primary reason to do this is PR, and to look good to customers (and therefore increase profits). If this were true, the incentive here for businesses would be to run projects that maximise how good they look rather than maximise social impact. Of course there are many businesses that genuinely do want to have a positive impact, but by the above logic there is rarely an absolute imperative to do so. Realistically if a business was going to go bust it would reduce its CSR spend and focus on staying afloat. This mismatch of aims never really sat right with me and is the primary reason I was uneasy about the role of business in international development.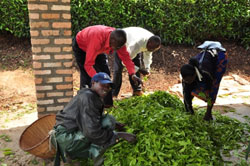 However, just a few months ago I was offered a place on DFID's Graduate Development Scheme in the Private Sector Department.  On my first day I was introduced to the terms "shared value" and "inclusive business", which offer a fantastic alternative to CSR (a term you never hear mentioned in DFID). Inclusive business models don't have a CSR add-on, but instead embed development thinking into their core business model in a way that benefits the poor and contributes to the business' bottom line; creating shared value.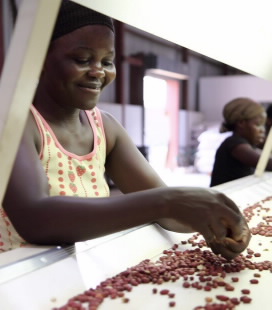 This is a really exciting concept and gives business a really tangible role to play in development whilst still meeting their business objectives. DFID runs several programmes to help businesses test and adopt inclusive business models. Programmes such as the Business Innovation Facility (BIF) and the Food Retail Industry Challenge Fund (FRICH) are great examples of these. BIF provides advisory support and information to businesses which are developing inclusive business projects in Bangladesh, India, Malawi, Nigeria, and Zambia. FRICH works with UK and European businesses to enable them to develop and test new ways for African food exports to reach European consumers. These programmes are great examples of how innovative business partnerships can deliver commercial benefits, as well as income and employment opportunities to thousands of farmers, labourers and their families in developing countries.
This is just a basic introduction to inclusive business and I look forward to telling you more about this, and the other exciting things we are working on in the Private Sector Department, in future posts.
Sharing and comments