I went to the launch of a new website, Turning the World Upside Down last week, and spent a fascinating 2 hours hearing about innovative ideas and approaches from poor and middle income countries that might help inform or shape health in the richer world.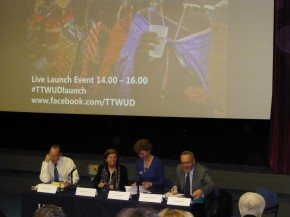 The beauty of the Turning the World Upside Down idea (the brain-child of Lord Nigel Crisp – here and here), is that it challenges our perceptions of development as something provided by 'developed' to 'less developed' countries. The website launches a movement whose intent is to promote a model of co-development, in which we recognise the mutual nature of development, promoting the idea that we can and should be learning from one another. An example of the ideas presented at the meeting included work with Community Health Workers in Brazil, which is now being used as part of a research project on health service delivery in Wales. Prof Andy Haines, of the London School of Hygiene and Tropical Medicine, talks about Brazil's experience here.
Necessity is one of the greatest drivers of creativity, and innovative ideas being developed to overcome or cope with sheer lack of resources in developing countries may provide helpful insights to different ways of working that can have benefits in rich and poor countries alike. The site is seeking to gather ideas and examples of innovation, and hopefully will lead to some robust evaluation of these approaches, helping build an evidence base for new, effective ways of working.
I was prompted to blog on this idea as I have been reading a set of country case studies on Universal Health Care, commissioned by the World Bank (here), which contain a number of important lessons, including from Brazil, which could be of value to other countries.
Taking the Brazil thread of this post a step further, Brazil's experience, as the host of the 3rd Global Forum of the Global Health Workforce Alliance, to be in Recife in November this year, will be one of the key inputs to what is shaping up to be an important meeting. Given the importance of building a strong and capable health workforce in support of Universal Health Coverage, the research and evidence feeding into this meeting is likely to be central to the on-going consultation on what will shape priorities after 2015, in the so called 'post MDG' period (and here).
An article by Professor Mala Rao in the British Medical Journal also highlights how DFID's work in India and an innovative technical partnership established with China is already fostering a process of mutual learning. The nature of UK aid is transforming rapidly to reflect the changing nature of our country partnerships.