My name is Frank, I'm 17 years and live in Tanzania. When I was growing up I often had just 1 meal a day. Between the ages of 2 and 4, my family frequently faced hunger and malnutrition. Some days I felt so ill that I couldn't even get out of bed. I'm the oldest of 3 and my parents run a small business to support our family and pay for our school expenses. My grandmother and parents did everything they could to look after me, but there just wasn't enough food. Our world produces enough food for everyone, people shouldn't have to go hungry.
Last year, I came to the UK and visited No. 10 Downing Street, where I asked David Cameron to prioritise the fight against hunger. As I return, the UK is co-hosting the  Nutrition for Growth event this Saturday, bringing together governments, business, science, and civil society to make the commitments needed to improve nutrition for millions of people. And with world leaders gathering in Britain for the G8 shortly, I'm coming to Britain to help keep up the momentum being built to tackle undernutrition. Because I remember what it's like to be very hungry, I don't want to see any other children experiencing hunger. To help spread the word about the campaign, I met up with Charlie McDonnall and introduced him to my home and my family.
I still remember being hungry, and I hate the fact that even though there's enough food in the world, hunger still kills millions of children every year. What makes it worse is that even if you survive, the effects of hunger can last for the rest of your life. Children who are malnourished are small for their age and weaker. I worry that if my younger brother has to deal with hunger his brain and body could be damaged.
Save The Children have produced an infographic to show the impact hunger and malnutrition have on children: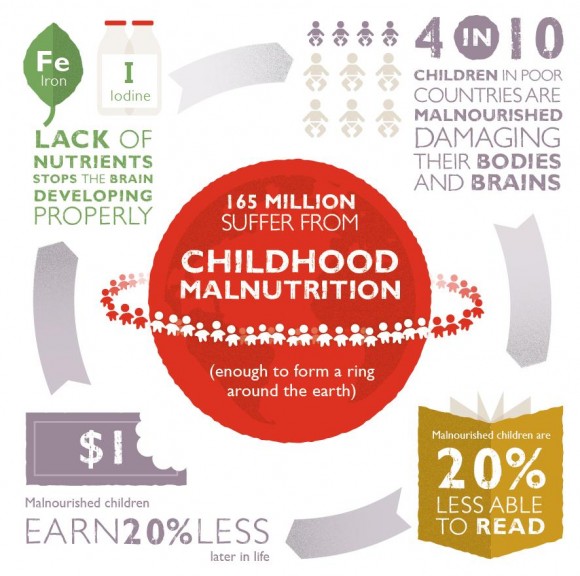 This shouldn't be happening in a world with enough food for everyone. It's not fair and the G8 have the power to change this. That's why I'm campaigning to make sure every child has the food they need to have the best chance in life to fulfil their potential.
In the next couple of weeks I want world leaders to help poor countries make sure that people, especially children like my brother, have adequate nutrition and support poor families to grow their own food. I'm campaigning for world leaders to clamp down on tax havens to stop the billions of pounds that flow out of developing countries like mine – money that could be used to end hunger.
It's possible in our lifetimes to make sure that every person lives a life free from hunger.
 Frank is an ambassador for the Enough Food for Everyone IF campaign, you can read more about the changes they want to see in the Enough Food for Everyone IF policy report (PDF 3.56MB).
---
Please note, this is a guest blog. Views expressed here do not necessarily represent the views of DFID or have the support of the British government.
Find out what the British government is doing to tackle hunger and undernutrition around the world.