Many people have said to me that I must have had a rollercoaster of a first week as Head of DFID Kenya. Arriving over a weekend, to then be thrown into a visit from DFID's Parliamentary Under Secretary of State, Lynne Featherstone MP, must, they assume have disrupted any settling in I could do, and been an intense time of behind-the-scenes working to ensure everything went smoothly. All I can say is that if that's a rollercoaster ride, I'll pay the fairground fare any day. All the arrangements were expertly done by the DFID and British High Commission team ahead of me coming (luckily), while I played the innocent 'I'm new to all this…and learning' card if asked any difficult questions. A perfect combination.
But looking back on my first week now, I realise that the things that really made an impression on me were about Kenyan women and girls. Having come from working in DFID's Policy Division in London, I knew the evidence and the theory. But to see it in practice was quite amazing.
First, the three-year-old little girl in Marsibit in the North of the country. Marsibit is one of the most unforgiving places to live I've seen in a long time. The little girl (and she was very little), hid under her mother's robes, while the nurse in the clinic told us about how she had been saved from the edge of starvation by British taxpayers' money. In the past, the well-being of the people of Marsabit would fluctuate with the weather…literally….being so dependent on the rains. But now, they have a lifeline through some small cash payments of about £13 per month given to the most needy, together with advice about the food that is most nutritious for them. This very small amount of regular money is working. Plus it's three times cheaper to do things this way, than for the international community to respond to a humanitarian emergency with food aid, at a time when people have already started to die. It's also far less traumatic for everyone of course. Now that UKaid has made the system work, the Kenyan government wants to take it over, which is right.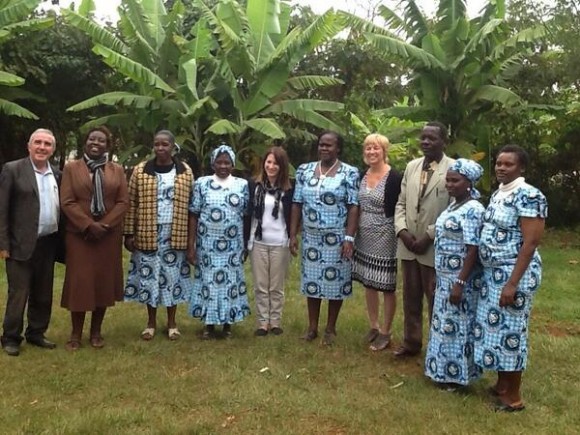 Second, the 13-year-old girl in Meru encouraged by her community and her parents  to go through an 'alternative rites of passage ceremony' rather than the genital cutting which, several years ago, half of her friends would have been subjected to. Now only very few girls are cut. I found the way that the elders, the community involved in the programme, and the girls themselves, talked about cutting, very open. It's such a blunt word. I feel myself squirming inside. But it was clear that talking about it like this was part of the process of changing attitudes. The girls who go through the alternative ceremony have for the first time, gone on to secondary school and done better there as well as becoming more confident and assertive. It's a winning formula. And UKaid is giving money to UNICEF and UNFPA to expand what's going on in Meru. But how could I tell the programme was working? Well, while the elders wanted to know if the programme could finance some small business start-ups, like tomato growing, for the girls so they had a living when they came out from school. When I asked her, the 13 year-old I met had other ideas. She wanted to be a neuro-surgeon. And why not?
Third, the group of women who talked to us in Nairobi about the way they were changing the prospects for Kenya. These however were an extraordinary group of women. They included the Chief Registrar of the Judiciary, the Deputy Speaker of the National Assembly, MPs, Senators, business leaders, and heads of constitutional commissions, all remarkable in their field because they were the first women to break through into that role. The determination for change, and the debate over what needed to happen to get more women into political leadership roles and end violence against Kenyan women was heated. I wondered if the 13-year-old from Meru might sit around this table in 15 years' time if she didn't achieve her first ambition.
And finally, it made me think about my own role. Apparently, I am the 13th head of DFID Kenya, but I am also the first woman to fill the post in its entire history. That term 'how times change' resonates everywhere doesn't it? And some of the people I met are not only doing that, but are making others 'change with the times' too. I'm proud to play my part.