Pakistan has the highest out of school population in the world. Learning levels are low. Successive governments have not allocated sufficient resources in the right places and have struggled to take many of the tough political decisions required to tackle a range of barriers to reform.
Even in Punjab where indicators are more positive than other parts of Pakistan, there are significant variations between districts, with children, especially girls, in southern districts much more likely to suffer educational deprivation than elsewhere in the province.
Yet there are also some hopeful signs. Across Pakistan, and in Punjab in particular, the low cost private sector is burgeoning, stimulated by demand for better quality education. Education activists are finding innovative ways to reach children in rural areas. The Government of Punjab has demonstrated a long term commitment to reform, working consistently with DFID, the World Bank and Canadian Internation Development Agency (CIDA) to strengthen institutions and address issues such as the way teachers are recruited. For all these reasons DFID has committed up to £350 million between 2013 and 2018 to support the transformation of education in Punjab.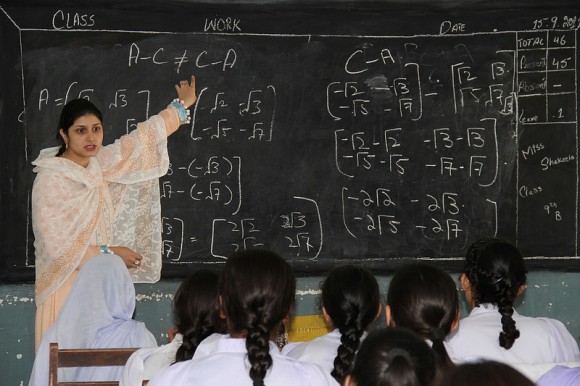 Education Reform Roadmap
The Chief Minister's Education Reform Roadmap, launched in 2011, is an important element of DFID's work alongside direct financial aid to government in partnership with the World Bank, and substantial investment in the low cost private sector with an emphasis on reaching the poorest and most marginalised children.
The Roadmap is based on monthly data for core indicators such as teacher presence and student attendance, collected through the Programme Management & Implementation Unit, an institution built with the World Bank, DFID and other donor support over the past decade.
The strength of the Roadmap lies in securing political leadership at the most senior levels for delivering free, quality education to all children in Punjab, in line with the 2010 18th Amendment of the Constitution of Pakistan. The Chief Minister has met with us and our partners every 2 months for the last 2 years to review progress and set direction, and education has moved up the political agenda in the province. Early signs following this year's election are that this commitment will not only continue, but that the new government is prepared to take the tough political decisions required to transform Punjab's schools.
While top down commitment to identifying and tackling binding constraints to reform is crucial, it is essential that this approach is complemented not only by technical assistance and support to implement reform, but also by developing bottom up demand for change. This is why the next phase of the Roadmap work will include new indicators on learning outcomes with the aim not only of tracking improvements in the quality of education offered in Punjab's schools, but also of equipping parents with information to make informed decisions about their children's education.
Improving student participation and enrolment
In its first 2 years, the Roadmap has focused strongly on improving student participation and enrolment. The Programme Management & Implementation Unit has produced monthly data by district for the Roadmap which indicates that participation has increased from a baseline of 82.8% to 92.1% in December 2012.
On enrolment, newly released Pakistan Social & Living Standards Measurement (PSLM) data indicates that while net enrolment at primary level remained static between 2007 and 2011, there was a 4% point increase between 2010 and 2011. It is difficult to make firm statements about attribution for the increase, although more enrolments in the private sector are likely to be a major factor, as well as the government's own reform programme, including the Roadmap.
PSLM is conducted annually and currently the government is not able to release data at pace. For this reason, DFID has commissioned a bi-annual household survey to track enrolment on a more regular basis and produce information more quickly. It is important to note that this survey does not measure net enrolment but does provide regular snapshots on how many more children are attending school and pre-school. It therefore reports how many children are in school, regardless of grade (around 86% of 6-10 year olds) as opposed to the net enrolment rate (NER), which excludes children in preschool and is around 74%. Estimates indicate that gross enrolment in Punjab has increased by between 1,000,000 and 1,500,000 children since the survey began in December 2011.
While this increase, for which attribution is also complex, does not translate directly to progress towards meeting the Millennium Development Goal which is measured using NER, it does indicate that many more children are enrolled in school than before. The challenge now for the government will be to help those children enrolling late to catch up with their peers, and to ensure that preschool, where all are required to enrol when starting school for the first time, provides an excellent foundation for future learning.
Push for progress
At the same time, the Roadmap has helped secure real progress in some important areas. For example, teacher absenteeism in Punjab has declined from a baseline of 19.3% to less than 9% in December 2012. Unauthorised leave has been squeezed to less than 1%, while the difficulties some districts are facing in ensuring teachers are in the classroom every day has opened up a policy discussion with government on the complex and political issue of teacher pay and incentives.
Progress in providing toilets, drinking water, electricity and boundary walls to schools accelerated greatly, with the proportion of these facilities available and functioning increasing from 69% to 88% during the first year of the Roadmap. The Roadmap has also made significant progress in improving some of the inputs to learning, particularly textbooks and teacher guides, though as yet there has been no measured impact on learning itself.
DFID is deeply committed to the transformation of education in Punjab. Our range of interventions including the Roadmap is designed to progress this. Our close collaboration with the World Bank and other partners is crucial to achieving our ambitions for the province's children, teachers and schools. And we remain keen to work closely with our international colleagues to make effective use of the political opportunities that the Roadmap offers to deliver better education for current and future students across Punjab.
Moazzam Malik is Director, West Asia and Stabilisation Division at the Department for International Development and Sir Michael Barber is DFID's Special Representative for Education in Pakistan. This is a joint blog on education reform in the province of Punjab, where DFID, the World Bank and Canadian International Development Agency (CIDA) work together to support the Government of Punjab.
---
Over the next few weeks we'll be highlighting our development support to Pakistan and how we're helping to push for change. We'll be linking up with partners from across the British Pakistani community who are making a huge contribution to Pakistan's development and promoting the positive voices for progress in country.
To get the latest Pakistan development news straight to your inbox sign up for our quarterly newsletter.