On 13 November I participated in the high level event hosted by DFID on 'protecting women and girls in emergencies', representing UN Women and joining other UN agencies, governments and civil society participants.
This event came as the international community was mobilising to provide support in the aftermath of the devastating Typhoon Haiyan in the Philippines.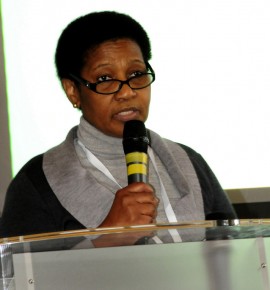 Women are the first line of defense and the most important relief agents in times of emergencies. They do not wait for help to come. They risk their lives to start the relief efforts, protect children, old people and the sick. Often they risk their own lives and are part of every step of the rescue and restoration of communities.
Yet women also face a dramatically increased risk of violence in many forms during emergencies– human trafficking, forced marriage and sexual violence. In planning relief operations, the special needs and risks faced by women and their contribution all need to be taken into consideration.
The DFID event recognised this, and governments, UN agencies and others committed to immediate action and increased funding to prevent and respond to violence in these settings. They also agreed to ensure that women have equal access to services and opportunities to participate in the recovery and rebuilding.
Equality for women and girls is important on its own, as a matter of human rights and common sense. It is also an economic imperative, with evidence showing that equality drives development and prosperity for all.
With 1 in 3 women worldwide expected to experience physical or sexual violence in her lifetime, this means there are a large number of invisible, traumatized and hurting women who live amongst us without the support they need. Of the world's total population, 3.6 billion are women and girls, so the damage and devastation amongst our societies is enormous in times of peace, conflict and humanitarian disasters.
This month, on my first trip to Mali as head of UN Women, I've seen how the involvement of women in peace negotiations builds the confidence of women, and creates leaders – a fact recognized by the UN Security Council resolution 2122, which was championed by the United Kingdom.
With the support of UN member States, high amongst them the British government, UN Women works around the world to prevent violence and to support survivors. We support women to emerge as leaders out of conflict situations. We cannot accept that violence against women and rape is an inevitable consequence of conflict.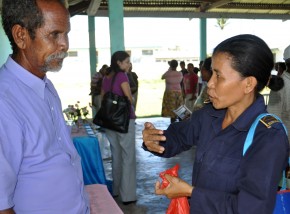 We also provide support to women after natural disasters. In Haiti, the UK supports our work with a local organisation to help women in remote areas who have experienced violence to access medical services and seek justice. One woman, targeted because a distant family member owed a debt, was viciously beaten in public. She told us that "if I couldn't come (to the organisation) to get support, I would have died."
In Timor-Leste, the British people helped fund a UN Women-supported network of 31 local organisations, which provide vital physical and emotional health services to survivors of violence, and assist them to obtain justice.
Crucially, this network then provides survivors with the opportunity to develop income-generating skills in agriculture and fishing, and education in areas such as learning English and computer literacy.
UN Women trains police and military personnel to respond effectively and sensitively to sexual violence, and refer survivors to networks such as this one. We have trained more than 500 military officers from 7 top UN troop-contributing countries from Brazil to India to my home country of South Africa.
But globally, the demand for these services and programmes to prevent and end violence against women far outstrips the supply.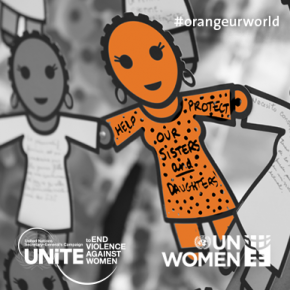 Stronger action has to be taken to end violence against women and girls. One in 3 girls will be married as a child bride before the age of 18. We have to end this violence against young girls and violation of their human rights.
Approximately 140 million girls and women in the world have suffered female genital mutilation. Trafficking ensnares millions of women and girls in modern-day slavery. Rape is a rampant tactic in warfare. And femicide, the murder of women because they are women, is taking an increasingly brutal toll.
We are confronted with a global pandemic that knows no borders, and affects all ages, income levels, races, faiths and cultures.
We need a response by leaders that is proportionate to the violence that threatens women and girls around the world.
It is a glaring omission that ending violence against women was not included in the Millennium Development Goals, which expire in 2015. In the post 2015 development framework and in the proposed goal for women's empowerment and gender equality, this has to be corrected.
UN Women is calling for a stand-alone goal on women's rights, women's empowerment and gender equality in the post-2015 development agenda that addresses violence against women. You can add your voice to our call here.
With determined leadership for prevention, protection of women's rights, prosecution of perpetrators, and provision of services for survivors, we can end this global pandemic.
It is up to all of us. Together we can end violence against women and girls.
------------------------------------------------------------------------------------
Please note, this is a guest blog. Views expressed here do not necessarily represent the views of DFID or have the support of the British government.
For full details of the UK's work on protecting girls and women, please visit: Improving the lives of girls and women in the world's poorest countries.
For full details of the event 'Keep her safe: Protecting girls and women in emergencies', please visit:
On the 13 November, the Department for International Development will bring together donors, the UN and international NGOs to make commitments to ensure action is taken to stop violence and the threat of violence to girls and women during a crisis, and meet the needs of survivors of violence.
On the 13 November, the Department for International Development will bring together donors, the UN and international NGOs to make commitments to ensure action is taken to stop violence and the threat of violence to girls and women during a crisis, and meet the needs of survivors of violence.
http://storify.com/DFID/keep-her-safe-protecting-girls-and-women-in-emerge