"In a society where woman can't even choose her own life partner, how can she choose her own leader?" It was a question that left the whole room stunned at a recent recording of Afghanistan's TV and radio debate show Open Jirga. 
As I heard the question, I forgot for a moment that I was the show's floor manager and couldn't stop myself joining in the applause that followed such uncompromising words.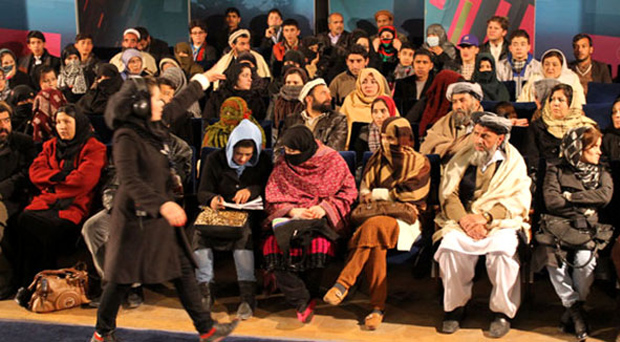 With funding from the UK government's Department for International Development, Open Jirga launched in December 2012 and brings together people from across the whole of Afghanistan to directly question their leaders and discuss the urgent issues of the day.
But as International Women's Day is marked around the world, this particular Open Jirga stands out in my mind as it was devoted to discussing women's role in our presidential election in April – an election in which every one of the 11 candidates is a man.
Speaking up
We invited women of all ages from across Afghanistan to be part of the studio audience in Kabul. They questioned a panel which included the Minister of Women's Affairs Husn Banu Ghazanfar and Abdul Rahman Hotaki from the Independent Election Commission.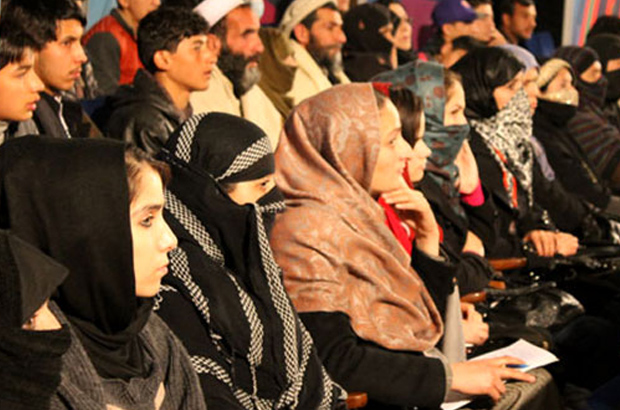 Some women were visiting the capital for the first time and many travelled hundreds of kilometres to be there. Fifty-year-old Najiba had left her home in remote Nangarhar, in the east of Afghanistan to come to the studio. "In my village people can hardly even afford shoes," she told me. "This is my first time participating in a TV programme."
Women in the Open Jirga audience often refuse to sit next to a man for fear of angering their family and husbands, but many taking part in this episode requested the best seats in the hall. They were determined to get their voices heard.
Najiba took her chance to get her point across: "We don't even have the right to leave the 4 walls of our homes," she said, "we can't cast our votes."
Another young woman echoed her words, saying that in her home town in Nuristan province it was considered shameful and disgraceful for women to vote. "Therefore our men take our voting cards," she said, "and vote on our behalf."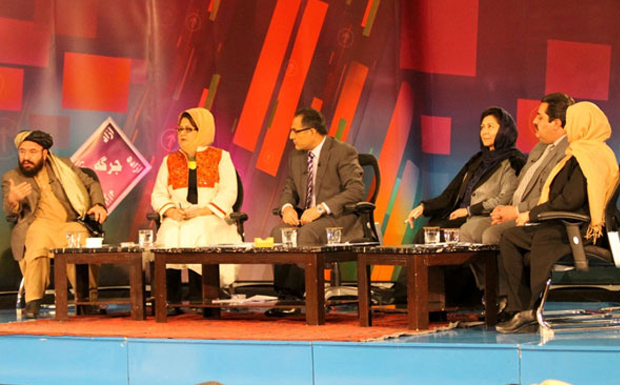 The Minister of Labour and Disability, Amena Afzali, who was also on the panel, responded strongly: "We should be strict about not allowing men to vote on behalf of women. We should break these taboos and encourage families to allow women to vote," she said.
The Independent Election Commission's Abdul Rahman Hotaki, meanwhile, assured the audience that his organisation was working to combat multiple voting: "We are using 2 different types of indelible ink which will remain for 72 hours so people won't be able to use other people's voting cards," he added.
A place to be heard
Ravindra Singh, a male audience member challenged a panellist who said imams should encourage women to participate in the elections. "Women do not have the right to visit mosques in Afghanistan so how will they benefit from messages delivered by imams?" he asked. "Will women be given the right to attend mosques?" The Women's Affairs Minister Husn Banu Ghazanfar responded: "We have some mosques with female access and participation in Kabul… But it is not enough. We should expand this to provinces and districts."
Other members of the studio audience, meanwhile, pointed out a bigger obstacle to women casting their votes: the ongoing insecurity in the country. Answers to such tough comments are never easy. But in a society where women's voices are so scarce, the chance for women to ask questions in public was something that thrilled many people.
Opening up debate
For example, 35-year-old school teacher Fauzia Amirullah from Jawzjan province in northern Afghanistan phoned our office after the show's broadcast to tell us how much she enjoyed the programme. It was brilliant to hear that she is now "a permanent fan of Open Jirga" and that she was particularly impressed by us including "ordinary women" from rural areas on the show.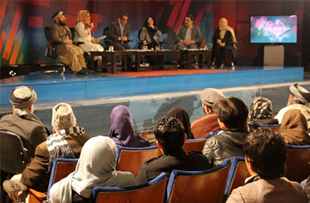 And despite the anger and frustration evident in some of the questions asked on the night, there was also optimism among the studio audience. Of the 42 women who filled out our questionnaires after the recording, 35 rated the 'opportunity (to take part in the programme) for women' as 'good' or 'very good'. Only 1 woman was dissatisfied and that was because she thought there was not enough time to ask questions. And their opinion of the panel's responses? Two thirds of the women rated the panel's answers as 'good' or 'very good'.
Such great feedback is something we hear often. A young woman from Takhar province who participated in a later recording of the show told me: "Open Jirga provides us with an opportunity to raise our voice. Seeing you managing the programme makes me feel proud of being a woman. I would like to take part again!"
Related links
BBC Media Action's work in Afghanistan || BBC Media Action's work on governance and rights  || Watch the Open Jirga on the role of women in elections on YouTube (in Dari and Pashto) || Follow BBC Media Action on Twitter and Facebook
---------------------------------------------------------------------------------------------
Please note, this is a guest blog. Views expressed here do not necessarily represent the views of DFID or have the support of the British government.
For more details of the UK's work on empowering the lives of girls and women in the world's poorest countries read our policy page. For more details of the UK's support to Afghanistan, see Why the UK supports development in Afghanistan, and to find out how we're supporting Afghan womens' rights read our blog here.
Keep in touch - sign up for email updates from this blog.